For the first official [Saturday Night] Test Kitchen, the theme was chocolate.
The menu:
-
Chocolate with Peppers
-
Chocolate with Scallops
-
Chocolate with Profiteroles
The challenge: not getting chocolate all over the place. It's such a pain to clean up. (Spoiler: it got all over the place. Fail.)
The three judges were close friends who I trusted not to lie to me avoid hurting my feelings. Because what was the point if I couldn't get a real critique?
I started with the peppers. Drawing from a combination of recipes around teh Google, I came up with:
Chocolate Dipped Peppers
1 pack of sweet orange peppers (about 10 peppers, 2-3 inches long in length)
1/4 cup of ricotta cheese
1/4 cup of cream cheese
4 oz (approx) of semi-sweet chocolate chips, melted
Chile salt for sprinkles (can be found in Mexican stores or in the ethnic aisle of supermarkets)

Slice tops from peppers, remove seeds, drop into boiling salted water to cover and simmer 5 minutes. (This softens them up a bit.) Drain and then drop in ice water to make them easier to work with. (Hot peppers aren't fun to touch.) Drain and pat dry.

Spoon the cheese mixture into the each pepper. Don't overfill. Dip each stuffed pepper in the melted chocolate. (Try not to drop the stuffing in the chocolate.) Lay on a platter, then shake a bit of the chile salt onto them. Let them sit in the fridge for an hour or two to set.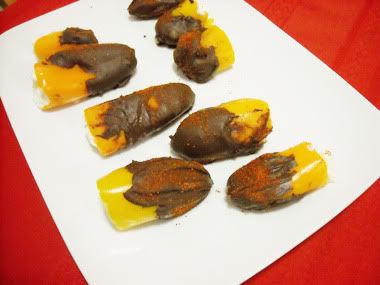 Up next were the scallops. I followed
this recipe
for Pan-Seared Scallops, omitting the blue cheese and serving over red leaf lettuce. Reposted with my changes--note I rarely season with plain salt and pepper, using my family's pantry staple, Adobo instead (this too can be found in the ethnic aisle at your local supermarket):
Pan-Seared Scallops with Chocolate Balsamic Reduction
½ cup balsamic vinegar
2 tablespoons semisweet dark chocolate chips
Splash of olive oil
8 large sea scallops, cleaned
12 oz bag of mixed greens, or any preferred salad fixings
Adobo all-seasoning mix with cumin, to taste

In a saucepan over low heat, reduce the balsamic vinegar by two- thirds. Add the chocolate, turn off heat and stir to melt and combine. Cover and set aside.

Season the sea scallops with the Adobo and sear them in the olive oil in a nonstick pan on high heat, about 45 seconds per side.

Divide the salad evenly among four plates. Place two scallops atop each, and drizzle with the slightly warm chocolate-balsamic reduction.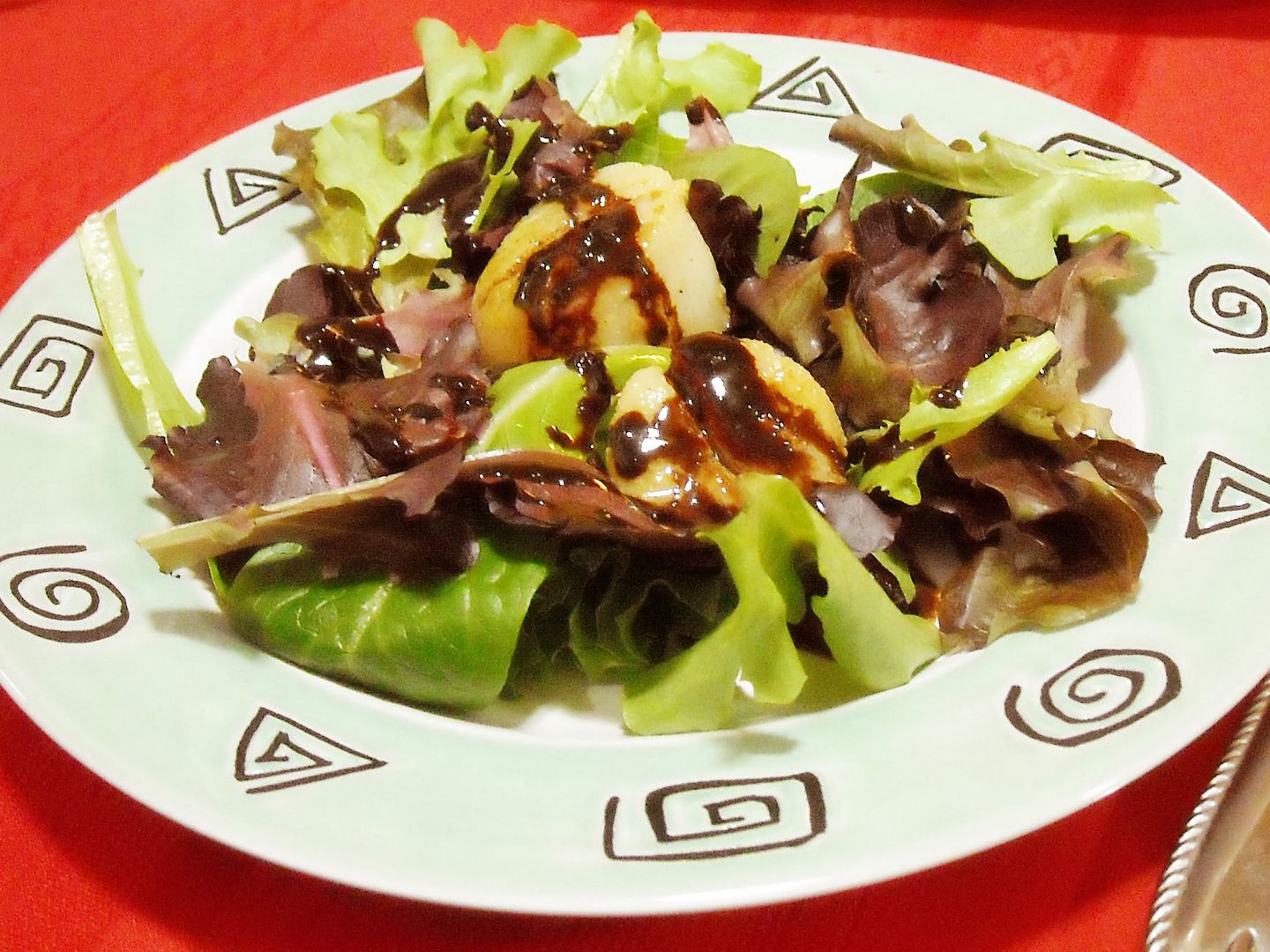 And finally for dessert, I tried out
Anne Burrell's profiteroles
. I'd seen it first on
Worst Cooks in America
, then again on her Saturday morning show,
Secrets of a Restaurant Chef
. I'm not a baker, so I had very little faith in these. They turned out to be everyone's favorite part.
I followed this recipe exactly, chiefly because I don't like baking and didn't want to screw it up. Except I forgot to add corn syrup. It was fine without.
Profiteroles with Chocolate Sauce
1/2 cup water
1/2 stick butter
Pinch salt
1/2 cup all-purpose flour
2 eggs
Pinch ground cinnamon
Ice cream
Chocolate Sauce, recipe follows



Preheat oven to 425 degrees F.




In a small saucepan combine the water, butter and salt and bring to a boil. Reduce the heat and add the flour all at once and stir it vigorously with a wooden spoon. Cook until the mixture has formed a ball and has a slightly sweaty sheen to it and it has pulled away from the pan. Transfer the mixture to a mixing bowl and let cool for 3 to 4 minutes. The mixture does not have to be cold, just cool enough not to cook the eggs when added. Using an electric mixer or lots of good old-fashioned elbow grease, beat in the eggs 1 at a time. Do not add the second egg until the first is fully incorporated. Add in the cinnamon and beat for another second to combine.




Transfer the mixture to a pastry bag equipped with a large straight tip and pipe 1-inch balls onto a sheet tray lined with parchment paper. When done dip your finger in water and smooth the top of each ball where the pastry bag released the dough. Be sure to leave at least 1-inch between each of the balls. They grow! Bake in the preheated oven for 20 to 25 minutes, rotating the tray halfway through the cooking time to insure even cooking. When done, the puffs should be light, airy and dry inside. Cool on a rack.




When ready to serve, cut in half horizontally and fill with ice cream of your choosing. (I prefer a really high-quality vanilla. Ed note: we used Haagen Daz vanilla bean.) Top with warm chocolate sauce.





1/4 cup heavy cream
2 tablespoons butter
1 tablespoon corn syrup
1 good pinch ground cinnamon



Bring a saucepan with 1-inch of water to a boil. Put the chocolate in a metal or heatproof glass mixing bowl and place on top of the saucepan with boiling water. Pay careful attention that the mixing bowl does not touch the surface of the boiling water. Add the rest of the ingredients and stir until the chocolate has melted and everything is combined. This is a pretty quick process, once the chocolate has melted remove it from the double boiler set up. Spoon over the filled profiteroles. This is best when served warm!
I was able to make 15 profiteroles, serving 3 to each person. The last 3 were scarfed up by one of the judges. He took to simply standing at the counter and dipping them in the chocolate sauce. He might also have half-closed his eyes and moaned a bit.
They were really that good.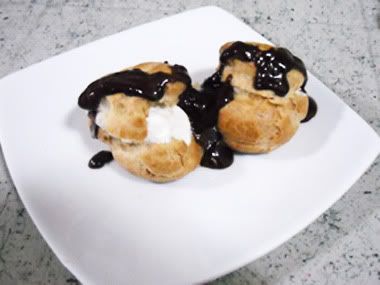 The final score for the evening: I liked the peppers with the cheese, but everyone else would have preferred a sweeter filling. The chocolate balsamic reduction was a slightly sweet and tangy surprise for everyone. And the profiteroles were by far the night's winners.
Lessons learned: I won't make chocolate dipped peppers ever again. They were so messy! But I used the balsamic reduction as salad dressing for the rest of the week. I also wish there were leftover profiteroles. But they were so easy to make, they'll reappear in my kitchen again soon.
This SNTK: successful.