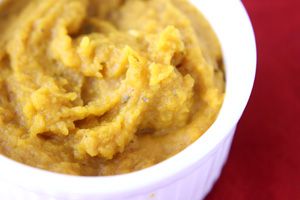 Do you ever get tired of mashed potatoes? No, because mashed potatoes are a delicious combination of the best type of carbs (potatoes) + fat (butter) around, and don't let anyone tell you differently (though pizza would be a close second). I know some people opt for sweet potatoes, considering them a healthier starch. Sure, okay.
What about other vegetables? Aside from those sweet yams with marshmallows, which isn't something we eat at our house, but to each their own. (We do eat
whiskey marshmallows
, though. And green bean casserole, of course. We're not monsters!)
This Thanksgiving, you can invite other squash varieties to your dinner with this jazzed up version of a pumpkin puree. The original is great and all, but pumpkins are so much more fun when they're carved in October or in pie in November. Plus, pumpkin puree is usually sweet. This ain't.
We're going to use green pumpkins! With edible skins! That's right,
kabocha squash
looks just like a pumpkin, but it's green and you don't need to take the skin off. Then there's the
ultra cool spaghetti squash
. Roast both of these with a couple heads of garlic, and you're halfway through this process. You can even make it a week ahead, and in an effort not to devour it all, freeze!
You'll want to sauté some onion, then add a bunch of spices, maybe add some liquid, throw in the squash. Then blend the whole thing together with a magic stick blender, or food processor, or if you like your veggies a bit lumpier, just mash away. I like my smooth, so I used a stick blender. It's magic. Also, my favorite kitchen gadget.
The trick here is the spices and the secret finishing ingredient:
Yup, limes! Or, more precisely, lime juice. Sounds weird, right? In this case, weird = good. It's deliciously weird! I mean, we're already onboard the off-beat train with two otherwise unlikely squash cousins.
You could totally turn this into a soup instead. Are you a soup eater? Try more liquid. Make it heavy cream and add more delicious calories! 'TIS THE SEASON!!
I like my mashy green-flecked puree. Enjoy.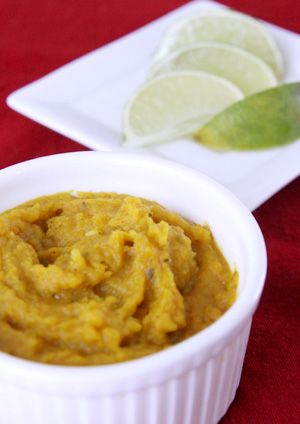 Roasted Squash Puree
A savory alternative to mashed potatoes or other typical seasonal puree.
Ingredients
1

spaghetti squash

1

kabocha squash

6 tablespoons

olive oil

2 tablespoons

Adobo salt mixture

2 heads

garlic

1

onion

1 cup

low sodium chicken broth (or just plain water)

1 tablespoon

chili powder

1 tablespoon

smoked paprika

1 tablespoon

ground coriander

1 tablespoon

turmeric

Juice of 1

lime

Salt & pepper to taste
Instructions
1. Preheat the oven to 375 degrees. Slice each squash in half and scoop out the innards (save the seeds if you like them, you can roast them at the same time). Cut the kabocha into 1-inch chunks.
2. Line two baking sheets with foil. Spread the kabocha pieces on one, place the spaghetti squash halves on the other. Drizzle olive oil over all the pieces (about 2 tablespoons each), followed by a sprinkling of Adobo (about 1 tablespoon for each sheet).
3. Cut the tops off both heads of garlic, remove the outer papery skin (leaving the heads intact), drizzle a bit of olive oil over the heads (about 1 teaspoon each). Wrap each head in foil.
4. Place the wrapped garlic on a baking dish with the squash, roast in oven for 30-45 minutes, until the squash flesh takes on a golden brown char. Remove from oven and allow to cool. Then scrape the inside of the spaghetti squash to make "spaghetti."(These 4 steps can be done ahead of time and the vegetables kept in the fridge.)
5. While the squash is cooling, heat the remaining tablespoon of olive oil in a sauté pan over medium heat. Add the chopped onion and sauté until translucent.
6. Add the spices and mix to ensure the onions are fully coated. Add the broth, roasted squash, and squeeze the garlic cloves into the pan. Bring to a boil, then simmer for about 10-20 minutes, until the squash is soft and easy to mash. Add salt and pepper to taste.
7. Blend in batches, add additional liquid as needed until desired consistency is reached.
8. Squeeze in lime juice and mix to incorporate. Serve warm.
Details
Prep time:
Cook time:
Total time:
Yield:
6-8 servings