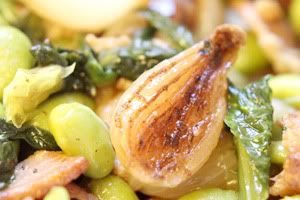 I've been stuck at home watching a lot of tv recently, since my immune system decided to take a vacation. Daytime tv is horrible, so I usually stick to the Food Network and Cooking Channel.
I caught an episode of
French Cooking at Home
and watched Laura Calder melt a HUGE portion of butter, fry pearl onions in it, and THEN add bacon to it. I was totally on in love with the idea...until she started shelling peas.
Peas irritate me. I don't know what it is about them that bothers me so much, but I don't like them. So I knew I wasn't going to follow this recipe exactly, but I didn't know what to use instead.
And then I remembered there was edamame in my freezer. And despite all the warnings about genetically-modified soy, and soy consumption tied to cancers, I do occasionally indulge in some. It's rare, because I don't want to die (that's why I eat
quinoa
). But it was the perfect replacement for this exceptionally rich dish.
Obviously with this much butter AND bacon, you eat this sparingly. After you defrost the beans, of course.
The original recipe called for an entire pound (2 cups) of peas. That's a LOT of peas. I decided half a pound of soybeans was sufficient and there was a good balance of beans to everything else. Despite my abhorrence of peas, I do so love bacon. And pearl onions (usually in my
martinis
, but fried up is good too). Throw in a bunch of lettuce so as not to completely clog your arteries and you're in business.
If you've never peeled pearl onions, all you have to do is boil them for a few minutes and the skins will come right off. Then drop them in butter, and once they're lovely and brown, toss in the bacon. The smell will overwhelm you. It's fantastic.
It's okay to scale back on the butter, if you're really afraid of saturated animal fat. I used half the listed amount and it was just fine. You might also want to be careful about how much salt you use. The bacon will add a good amount, so low-sodium chicken broth is a good bet.
In the end my taste testers (aka mom & dad) loved it. I found it intoxicating, from the aroma while it cooked, to the warm wilted lettuce and plump soybeans in my mouth.
I'm not clear on what makes this à la Française (read: French)...maybe it's the obscene amount of butter? The fact that Laura Calder has a delightful accent? I don't know. Suffice to say it's good food. Just eat it.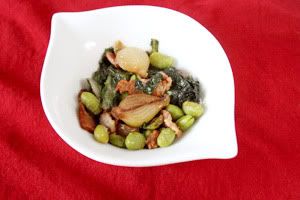 Bacon Edamame à la Française
Ingredients
1 tablespoon

butter

16

pearl onions, peeled and halved

4 slices

bacon

1/2 pound

soybeans, shelled

1/2 cup

low sodium chicken stock

2 cups

red leaf lettuce, shredded
Instructions
1. Melt butter in a frying pan and add the onions. Cook on medium heat until the onions begin to brown. Brown food tastes good.
2. While the onions are frying, cut the bacon strips into small pieces (sometimes called lardons). When the onions have browned, add the bacon and cook until crispy.
3. Add the soybeans and chicken stock. Cover and cook until tender.
4. Add the lettuce, stir, and cook covered until just wilted (about 1 minute).
5. Serve warm.
Details
Prep time:
Cook time:
Total time:
Yield:

4 servings