The menu for Day 2 of Operation No Carbs included mushroom soup for lunch. I pulled this together from 2 different recipes without even realizing it. Apparently I didn't go back to the
original
, but found a new one, when it came time to cook. (It's the Atkins website's fault. They have 2 different recipes depending on where you're looking. And you can't even link to one!)
Regardless, it was good enough. And perfect for this chilly day. It looks beautiful outside, but there's a strong, cold wind. Hopefully the roof doesn't blow off.
The original recipe(s) called for dried thyme. All my thyme is still in the herb garden, but I did have dried basil on hand. That was a really yummy substitution. I also don't care for super creamy soups, so I left out the heavy cream. For a recipe of this size, you could use about a half a cup, if you're so inclined.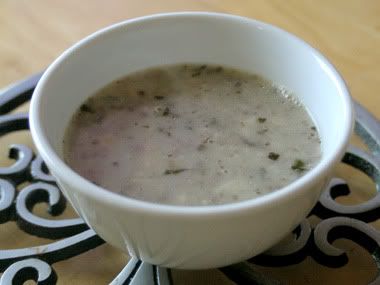 Mushroom Soup (yields about 3 servings)
1 tablespoon olive oil
1 medium shallot, coarsely chopped
1 carton (about 5.5 oz) of button mushrooms, sliced
1 teaspoon dried basil
14 ounces lower sodium chicken broth
1/4 cup dry sherry
1 teaspoon Adobo (to taste)
1 tablespoon fresh lemon juice (optional)

1. Heat oil in a soup pot over medium-high heat. Add shallots, mushrooms and thyme. Cook 10 minutes, until mushroom pieces are lightly browned.

2. Add chicken broth and water. Reduce heat; simmer 10 minutes.

3. Puree (in batches if necessary) in a blender. Return soup to pot; add Adobo to taste. Stir in lemon juice (if using) before serving.