This
Cheese Fast thing
is getting ridiculous. I feel like the universe is mocking me. The other day I drove past a NEW grilled cheese truck right next to the office.
Not fair!!
So I've turned to my other food love: truffles. Not those chocolate things, since I don't have much a sweet tooth, but the supremely expensive subterranean delights from distant lands. The easiest way to experience them without going broke is either truffle salt or truffle oil. And thanks to dear food blogger friend
Erika Kerekes
, from whom I borrow lots of recipes, today I had BOTH!
So decadent.
Surfas
has teeny tiny bottles of both white and black truffle oil for only $12. For 2 ounces. Yup, 2 teeny tiny ounces. But compared to paying $300 per pound of the actual mushrooms, it's a steal. And the
Spice Station
has salt for $10 an ounce (only 1/3 the price of saffron!). I've had both the oils and salt in the pantry forever, so this was just waiting for me to hard boil some eggs.
(Thankfully my random allergy to eggs has disappeared. Yay!)
I used white truffle oil because that's the type of salt I had and figured they would pair well. The black truffle oil is a bit more earthy, and I like it in green salads. This would taste just as deliciously with the black truffle oil, I'm sure. They're both excellent.
And since I was cooking for just one person, I cut the recipe significantly. I was out of my typical mayo substitute (Greek yogurt), so I went without. It was still creamy and delicious. I also mashed this together in my mini chopper because I love that thing, though you could do as Erika suggests and simply mash them with a potato masher. But I like to save my elbow grease for tennis and/or sipping scotch.
Not necessarily in that order.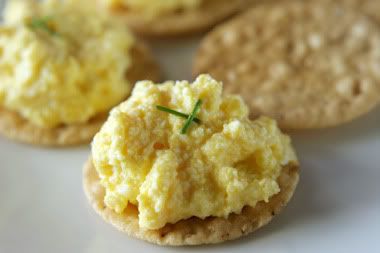 print recipe
Truffled Egg Salad
Adapted from
In Erika's Kitchen
. This is quick, delicious, and just a tad decadent. Use a mini chopper to whirl it together quickly and with minimal elbow grease.
Ingredients
4 eggs, hard boiled
1 tablespoon white truffle oil
1/8 teaspoon white truffle salt
1-2 tablespoons sour cream
Instructions
1. Peel the eggs and crumble them into the bowl of the mini chopper.

2. Add the sour cream, salt, oil, and blend away.

3. If the consistency isn't creamy enough, add more sour cream a little at a time.

Spread on crackers, in tortillas, or simply eat straight out of the bowl. Don't try to control yourself, you will lose that battle.
Yield:

approx 1.5 cups