This month's meeting of the local food blogging crowd gathered, quite literally,
In Erika's Kitchen
. More like Erika's
perfectly lit
kitchen. Between the skylight and huge south-facing window, you can't take a bad shot of food. Absolutely lovely. (Thanks for hosting, Erika!)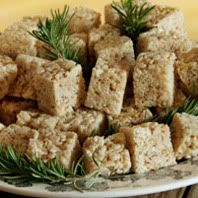 Everyone brought tasty treats, like
Shockingly Delicious
' brown butter and rosemary rice krispie bars, and
She's Cookin
's wonton cups with mulberries. But the highlight was the charcuterie brought to us from
Creminelli Fine Meats
.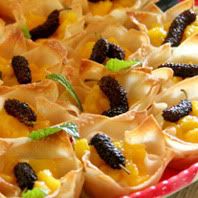 It's no secret we love the pork products here at G+F HQ. Having huge platters of salumi to choose from was as close to heaven as we were going to get on this particular day, since the
end of the world
didn't materialize.
And heavenly it was.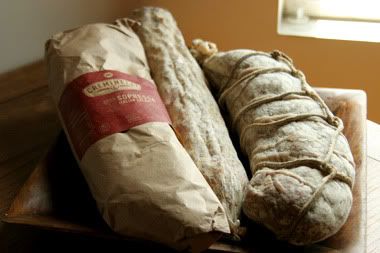 My personal favorite was the Sopressa, a fermented salami with flavors of wine and garlic. Suggested uses are on pizza or paired with aged Italian cheeses. I highly suggest simply stuffing your mouth hole with it until you can't eat anymore. Inelegant, sure, but delightfully satisfying nonetheless.*
An authentic Italian import, the artisan meats are rolling out to a local Whole Foods near you. Made without nitrates or nitrites, the meat is simply delicious. To learn more about Cristiano Creminelli and his company's philosophy, please see their
website
.
*
I can't be held responsible if, while savoring the scrumptious meat, if your eyes roll into the back of your head and stay there.