This kitchen experiment was inspired by an appetizer I had at my birthday dinner at the Hard Rock Cafe earlier this year. They're turning all of 40 this year, did you know? I turned not-40 and was blown away by their bruschetta.
The secret to their dish is that they marinate the tomatoes in balsamic vinegar. Delicious, sour balsamic vinegar. Mmmm.
Ever since learning to turn
tomatoes into raisins
, I've been wanting to see how that would work in bruschetta. Balsamic-soaked, roasted grape tomatoes are perfect on their own. Throw them in salads, sandwiches, eat them by the handful. But marry them with cilantro and shallots, then add them to grilled bread? Hot. Damn.
Growing up here in not-Italy, I was under the impression that bruschetta is the toppings on the toasty bread. Turns out that's not true. The word bruschetta is derived from the Italian word that means to roast over coals. So those bottles labeled bruschetta are both lying to you and cheating you out of a really great fresh toasted and roasted dish. Don't buy them. Make this instead.
First you roast tomatoes, then marinate them in balsamic vinegar and a bit of olive oil overnight. Or, if you're like me and dare to forget they're in the fridge, let them sit for a week! Hell, just store them in the balsamic after cooking. You can reduce the marinade later and use it as a glaze or salad dressing.
Once you've waited long enough for the tomatoes soak up their tasty sourness, chop up a shallot and some cilantro. Mix them all in the the marinade. Then toast some sliced crusty bread and rub it with garlic. Top with a good Parmesan or an Italian truffle cheese. Enjoy your sexy dish.
Then stuff it in your pie hole.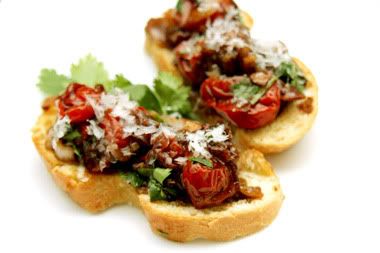 The instructions below will give you enough for 1 person (about 5-6 slices). Scale as necessary.
print recipe
Marinated Roasted Tomato Bruschetta
Ingredients
1

large French dinner roll (or any crusty bread)

1/4 cup

olive oil

1/2 cup

roasted grape tomatoes, soaked in balsamic marinade

1

small shallot, finely chopped

1/4 cup loosely packed

cilantro, chopped

salt and pepper, to taste

Italian truffle cheese
Instructions
1. Roast grape tomatoes according to directions. Cover in balsamic vinegar and a dash of olive oil. Marinate overnight (or longer).
2. Cut bread into 3/4-inch slices on the bias. Brush with olive oil and bake oil side up at 350° for 10-12 minutes or until golden brown. Allow to cool then rub with a cut clove of garlic (or a whole head cut in half--it covers more surface area).
2a. You could also simply toast the bread under the broiler, in the toaster, or on the grill.
3. Add shallot and cilantro to the tomato marinade and mix well. Add salt and pepper to taste (if you find it necessary, this is optional).
4. Spoon the mixture onto each bread slice and top with a bit of grated cheese.
Try not to devour it all at once. You don't want to choke.
Yield:
5-6 slices