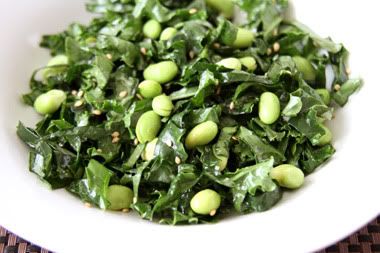 I love kale. At least, I thought I did because I've only ever had it cooked in some manner. My mom makes a wonderful dish with kale and swiss chard, but again, it's cooked. And kale chips! Those are
delicioso
!
Then I tried it raw one day and almost immediately spit it out. It's not quite the same. At all. Apparently the only
cruciferous veggie
I can handle raw is daikon...I think I've eaten raw. But, in any case, kale is
full of health benefits
, so it must be eaten.
It's no wonder kids don't like vegetables...
And then I came across Janet's post over at The Taste Space,
Almost Raw Asian Kale and Edamame Salad
. It calls for marinating the kale in a lime juice for a bit. I figure this ceviche-like treatment would help "cook" it so it was worth trying.
I'm not one for vegan food. It's not a lifestyle I could ever adhere to, since I love cheese. And MEAT! But
The Taste Space
has some interesting recipes I've been eager to try, and this kale edamame salad was truly simple. And a good test of semi-raw kale.
As I suspected, the lime juice really does "cook" the bitterness out of the kale. The added benefit of sour lime juice is a bonus, since I
love all things sour
.
Janet suggests slicing the kale thinly, so I made kale chiffonade. It's so pretty! And yummy! Win!
For Janet's recipe, please
click here
.
It also works REALLY well with spinach. Spinach chiffonade! Pretty! Yummy! More win!