I needed an excuse to use my immersion blender (a birthday present) and to eat the baby carrots in the fridge. And that's when I found this
Carrot & Ginger Soup
recipe.
There was no messing around with the recipe except for the usual shallots-for-onions switch and I halved the recipe almost straight down the middle. That's what follows.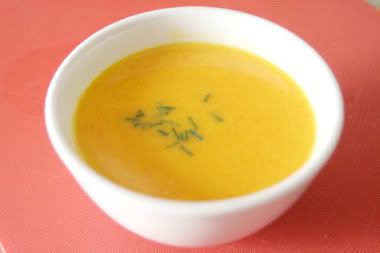 Carrot Soup

3 tbsp. (about 1/3 stick) unsalted butter
1 shallot, chopped
1/4 cup finely chopped ginger root
2 cloves garlic, minced
2 1/2 cups chicken stock
1/2 cup dry white wine
3/4 pound baby carrots
2 tablespoons fresh lemon juice (or more to taste)
Pinch curry powder
Salt & ground pepper (to taste)
Snipped fresh chives or parsley

1. Melt butter in large stock pot over medium heat. Add onion, ginger and garlic; saute until translucent (just before the garlic starts to brown).

2. Add the stock, wine and carrots. Heat to boiling. Reduce heat and simmer uncovered over medium heat until the carrots are very tender, about 30-45 minutes.

3. Puree the soup in a blender or processor (fitted with steel blade). Season with lemon juice, curry powder, salt and pepper to taste. Sprinkle with chives or parsley. Serve hot or cold.

Yields about 8-10 servings
Something was lacking in the recipe. I ended up throwing in a few dashes of sriracha and that seemed to resolve it.