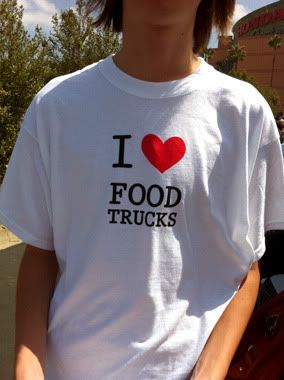 The
LA food trucks
are now as ubiquitous as the palm trees and fake-tanned celebrities. A quick check on Twitter will give you the details for any given lunch or happy hour (or just follow
@FoodTruckLA
for all the updates). Being the food lover that I am, I've been on a mission to try as many of them as possible.
Food trucks have even spawned their own food festivals. In the last month both Los Angeles and Long Beach have hosted their own, and this weekend it was Orange County's turn.
I'd had to miss the two local events, so when the chance came up to volunteer for
OC Foodie Fest
, I jumped at it. In the process I was able to hit two separate goals of trying at least one new truck and FINALLY meeting the crazily talented OakMonster of
Hmm...Food...Good
.
Oakley and I have "known" each other for the better part of a year. We have several real-life friends in common, follow each other on Twitter, and are connected on Facebook. We also worked less than half a mile apart and yet had NEVER been able to meet up. Until this past Saturday when we were paired together at check-in, where for four hours we helped scan very hungry and very enthusiastic food truck fans (like the boy above).
After our shift we got to roam around the event. It had been difficult to stand at check-in and watch the lines grow exponentially, knowing that we'd have slim to no chance of getting to experience some of the favorites. Most of the well-known trucks were there, including some of the crew from
The Great Food Truck Race
:
Nom Nom Truck
,
Crepes Bonaparte
and
Nana Queen's Puddin' & Wings
. The lines for these trucks in particular were beyond all limits of patience. Imagine Disneyland on the busiest day without a fast pass.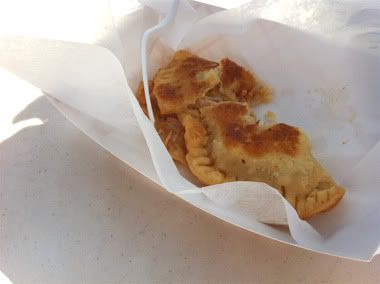 We decided to divide and conquer, setting our sights on two trucks we'd never tried and that had relatively short lines. Oakley took the OC-based
Barcelona on the Go
and I opted for LA's
recently
introduced
Yatta Truck
. How can you resist deep-fried cheeseburger rolls?
From the BOTG truck we ordered a fig and manchego salad (no picture) the chicken empanada (
right
)
and a Spanish quesadilla (
below
).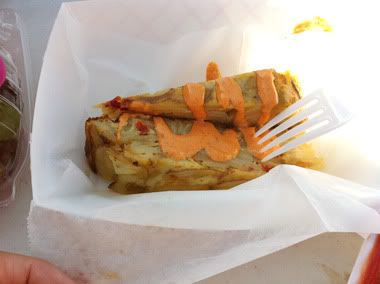 The salad was absolutely forgettable. So much so that I forgot to take a picture of it. The empanada was not unlike ones my mom and I have made at home. Though not fried to a crisp like Argentinian turnovers, the filling was a bit greasy and under-seasoned. Disappointing. And since it was undoubtedly made of some sort of wheat based flour, I wasn't going to risk a reaction on it.
The quesadilla was interesting. Instead of just being filled with cheese, it was accompanied by a thick layer of potato and onion, and topped with a chipotle aioli. It wasn't bad. Different from the Mexican version I eat on a near-daily basis, but not bad.
The Yatta Truck was a bit more exciting. There are
five standard rolls
to choose from, all inexpensive: $3.50 to $3.75 for four pieces, $6.50 to $7 for the super-sized eight pieces. You can also create your own roll by choosing up to four of twelve ingredients. I opted for the Poki ([
right
]
tuna over a standard California roll
—
which I usually despise, but the tuna made it delicious), the Sweet Aloha (deep fried teriyaki beef and pineapple) and the aforementioned All-American cheeseburger roll (a deep fried cheeseburger).
The All-American (
left
) is on top next to the ketchup, Sweet Aloha is covered in yummy sauces. Oakley and I agreed that the fried cheeseburger needed to be paired with beer. But we were too worn out to walk to the beer garden and stand in a long line. In fact, after gorging ourselves on all those carbs, the food coma started to set in.
There were so many other trucks I wanted to try, especially those that never go beyond the Orange Curtain into LA like
Louk's To Go
. But the lines were either much too long or, as in
LudoBites
' case, they closed up early. Plus, after standing in the sun checking in over 3,000 people over the course of four hours, we were positively drained.
(My pictures were taken with my iPhone, but Oakley busted out her Nikon DSLR and shot what I'm sure are much more beautiful pictures. Follow
her blog
for more details.)
The organizers did a fantastic job of creating buzz about the event. I was getting multiple updates daily via both
Facebook
and
Twitter
as new sponsors and trucks signed up. On the day of, all 8500 tickets had already been sold. Though there were plenty of first run mishaps, I applaud them for putting together a wonderful
fundraising campaign
, gathering great sponsors and entertainment, and best of all, highlighting gluten-free options! The map we handed out at the entrance had all this info listed. Brilliant.
Good job OC Foodie Fest!