I had a hankering for spring rolls the other day so I visited my
local Japanese market
for supplies. And that is where I spied these very interesting little mushrooms. Enoki mushrooms are delicate, long white mushrooms with tiny little caps for heads, and are packaged in bundles. They're great raw. Throw them in a salad. They're an wonderful alternative to sprouts, which always taste like dirt to me (enoki do not taste like dirt).
And while the raw preparation is fine, fried isn't half bad. At all. I learned that when I put them in the spring rolls (which promptly exploded
—
apparently I didn't wrap them tightly enough). And then, of course, there's the no brainer: wrapped in bacon.
Do a search for bacon-wrapped enoki and you'll mostly find oven baked recipes. And while I'm sure that's fine and dandy, I had no desire to a) turn on the oven in the middle of the summer (despite the very cool temps we've been enjoying in LA), or b) wait the requisite 15-20 minutes for my food to be ready. So I pan-fried instead.
I rushed the cooking because, quite simply, I was hungry. And I had 30 minutes before a conference call, so the quicker the bacon fried up, the better. That's why everything looks a bit over-charred in this picture. But it still tasted like bacon heaven, so I cannot complain.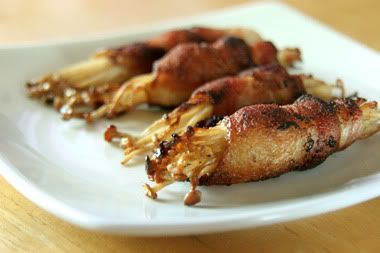 Pan-Fried Bacon-Wrapped Enoki
Yields 8 pieces

1 package enoki mushrooms
4 pieces of bacon, cut in half

1. Cut the dirty tail end of the mushrooms off. Separate into 8 smaller bundles.

2. Wrap a half-piece of bacon around each bundle. Secure with toothpicks.

3. Place in a skillet on medium heat. Cook until bacon is crispy all the way around.

4. Drain on paper towels until cool. Serve immediately.