In honor of one of my favorite days of the year, Valentine's Day, this week is all about red food. Well, red and pink and purple. Because red is also my favorite color. And what better way to fall in love than over food?
Up first, some cole slaw. I'm not sure why it's called
Three Week Cole Slaw
, since it's ready in three
days
, but maybe it's just supposed to be one of the great mysteries of life. Oh, and remember when I
hated cabbage
? Not so much anymore! And the red kind is
extra good for you
.
The original recipe called for a white cabbage and white onion., but the red ones are so much prettier. Waiting the three days for this to age to sweet perfection was not easy. It smelled so good. Honey and vinegar, sweet and sour, yummmmm.
I took to eating this for breakfast mixed with
quinoa
. But it's also great in tacos, or just by itself, by the spoonful.
Other than substituting the colored versions of the veggies, I used celery salt instead of the seed/salt combo and added some dried dill weed. Delicious.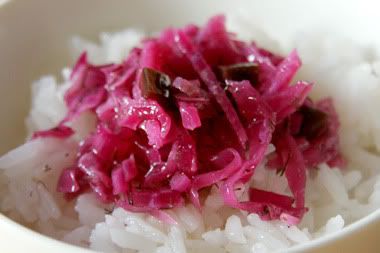 3 Week Cole Slaw
makes 12 servings



1 head red cabbage, chopped
1 jalapeño pepper, deseeded and chopped
1 red onion, chopped
1/2 cup oil (I used sunflower)
1/3 cup honey
1 cup white vinegar
2 tablespoons sugar
1 tablespoon celery salt
1 tablespoon dried dill weed

1. In a bowl, combine cabbage, pepper, onion, sugar and mix well.

2. Combine remaining ingredients in a saucepan. Bring to a hard boil, then pour over cabbage mixture and stir until thoroughly combined.

3. Store in refrigerator in airtight container. Let stand at least 3 days. The flavor improves the longer it sits. Will keep refrigerated for 1 month.
Mix it up today and it'll be ready to eat by the weekend!