The other day, I tried making
pralines
. It was a spectacular failure.
But I was left with a caramel sauce that was looking for a home. I had just attempted to make paneer, and though it crumbled more like cottage cheese than the solid store-bought variety, it was still edible. The idea for very simple paneer came from an
episode of Aarti Party
, where she made it look so easy. (I've since learned the secret to solid cheese was letting it drain for longer.)
In that episode she fried the cheese and then made a spicy sauce to serve it with. I figured I could adapt a spicy honey recipe for this, and it was the exact opposite of a failure. It was, simply, spectacular.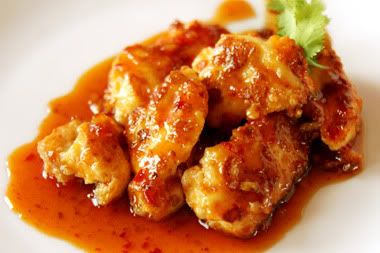 The spicy honey recipe came from this
Moroccan
recipe for eggplant, which I'm sure is delightful. But the caramel was super sweet, so to balance it out, this needed more of the spicy pepper, more spicy ginger, more spices period! Also, I've taken to cooking with coconut oil instead of olive oil.
So in increasing the ginger and harissa, adding coriander, using caramel instead of honey, and sautéing it all in coconut oil, we have a sauce I have fallen in love with. It makes a wonderful barbecue sauce, a glaze for paneer or...anything. Let me know what you end up putting it on!
print recipe
Ingredients
1 tablespoon

coconut oil

3 cloves

garlic, minced

3 tablespoons

grated fresh ginger

2 tablespoons

harissa

1 tablespoon

ground cumin

1 tablespoon

ground coriander

1/4 cup

caramel sauce*

3 tablespoons

lemon juice

Salt & pepper, to taste
Instructions
1. Melt the coconut oil in a pan over medium heat and add the garlic.
2. Sauté for about a minute (don't let it brown) and then add the rest of the ingredients. Stir to combine.
3. Cook until the sauce is thick and syrupy, about 3-5 minutes.
Yield:
About 1/2 cup