Baby carrots. They're so cute. Teeny. Tiny. Fun size.
And far easier to cook with than regular size carrots because you don't have to peel or chop them. So right there you're saving yourself two steps worth of elbow grease. You have to save that for the whiskey pouring!
No that there's any whiskey in this recipe. But there are a handful of spices. Cardamom, cinnamon, fresh ginger. (Is ginger considered a spice? It's definitely
spicy.
) Check it out
here
, courtesy of
Aria Kagan
, one of the favorites of the sixth season of
Food Network Star
.
I've found that most recipes I come upon call for far too little of whatever spice is listed. Even when I halve recipes (which is just about always), I leave the spices alone. Spice is good. At least that's what my taste buds tell me. Your mileage and/or taste buds may vary.
This go-around, however, I actually needed to futz with the spice mixture completely. Cardamom, the main spice in this dish, is very strong. I found that using just half was still too much. So I added more cinnamon. And then even more cinnamon. And then some turmeric, because it fights cancer. (Really, there was no other reason.) And then some dried dill weed. And celery salt. Then some garlic salt. And then I let it simmer. The recipe also called for some orange juice and apple cider vinegar later in the cooking process, and I didn't want to create a completely disconnected Frankenstein dish, so I left well enough alone. Though this probably would benefit from some nutmeg too.
A quick note about sweet potatoes: I don't care for them. I might be confusing them with yams (they're
not the same thing
), but I do know that I'm over the hoopla of sweet potato fries. Had them once and decided they're gross. I like my fries golden brown, and smothered in cocaine, or whatever it is that McDonald's does to them to make them so damn good. (Note: I never eat at McDonald's because that will kill you, but they're fries are pretty much the best of any fast food chain.)
As such, there were no sweet potatoes or yams in this soup. Just plain ol' Yukon Goldies.
So what do you get when you throw sweet onions, garlic, random spices, freshly squeezed orange juice, and apple cider vinegar together? A soup worth slurping.
This whole recipe experiment was a treat for me because I finally put my immersion blender to use. It's so much easier than lugging the blender out. And less to clean! Again with the time- and elbow grease-saving!
And then, you get this: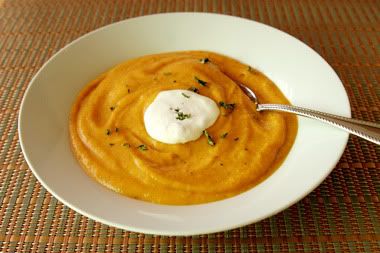 Eat it hot or cold!
Another note: I've been cooking with coconut oil of late. It's supposed to be
healthier
than just about any other fat out there, especially for high heat cooking. No, the food doesn't taste like coconut. But that would not be a bad thing!
print recipe
Ingredients
1 tablespoon

coconut oil

1

onion, choppped

4-6

garlic cloves, chopped

2 tablespoons

freshly grated ginger

1/2 tablespoon

ground cardamom

1/2 tablespoon

ground cinnamon

1 teaspoon

dried dill weed

Celery salt and garlic salt, to taste

1/2 pound

baby carrots

1/2 pound

potatoes, peeled and roughly chopped

Water, to cover

Juice of 1 orange

2 tablespoons

apple cider vinegar

1/2 cup

creme fraiche or crema

1/4 cup

cilantro

Freshly ground pepper, to taste
Instructions
1. In a large pot, heat the coconut oil over medium heat and sauté the onions, garlic, grated ginger, cardamom, cinnamon, and dill weed. Stir to combine and sauté until the onion is translucent (about 6 minutes). Add a bit of water if the spices start to stick. Add the remaining vegetables and stir to coat with spices. Sauté for another couple of minutes.
2. Add enough water to cover all of the vegetables. Bring the mixture to a simmer, add the salt(s) and cook until the carrots and potatoes are soft (about 40-45 minutes).
3. Remove the pot from the heat and using a handheld immersion blender if you have one (!!!), or food processor/regular blender if you don't, puree the soup until smooth, and then strain through a sieve into a new pot. This will give you silky soup.
4. Place the pot over medium-low heat and stir in the orange juice, apple cider vinegar. Simmer the mixture for 15 minutes.
5. In a small bowl, stir the creme fraiche/crema and cilantro together.
This can be served immediately or prepared a day ahead. Hot or cold, add a dollop of the cilantro cream. It's very pretty presented this way, but if you mix it all up, it takes on another whole dimension of flavor!
Details
Prep time:
Cook time:
Total time:
Yield:
4-6 servings