Have you gotten over your turkey hangover yet? What about the mountains of leftovers? American Thanksgiving being last week, the annual gluttonous tradition usually leads to lots and lots of
Meleagris gallopavo
but little patience for dried out turkey in the days that follow. How many turkey sandwiches can you really stomach?
My parents always host our Thanksgiving dinner, yet this year they took care of what would have been uneaten leftovers by not having any. 30 people at their house + a 17 pound turkey = a mere 3 cups of shredded turkey when all was said and done. Thankfully, because gratitude is the real point of the holiday, there was plenty of mom's jalapeno cranberry sauce afterwards.
She is, of course, Mexican, after all. And that stuff is good on everything.
I'd seen a
segment on the local news
that week about what to do with leftovers, and was looking forward to making the turkey and cranberry sauce wontons they featured.
Turns out I didn't follow the directions very well and it took forever to make little purses. It you just leave these as triangles, it probably cuts the time in half. But then you don't have cute little purses! After putting the turkey and gravy through the food processor, my mom and I spent about 20 minutes making 50 of the little packages. Imagine if I was making them alone! (Spoiler alert: I later made 20 of them by myself. It took half an hour...maybe I'm just really slow?)
First you shred the bird into bite-size pieces and add about a cup to the food processor with some gravy (and mashed potatoes, green bean casserole, etc). Depending on how thick your gravy is, you may need more than a half-cup to make a creamy consistency. Then run a bit of water to two sides of a wonton wrapper and add about a teaspoon of the turkey mix to it.
Top with a dab of cranberry sauce,
then fold the wrapper into a triangle.
Pinch the sides closed making sure you let any air out of the pocket. Bring the corners to the top of the triangle and twist.
Now you have little purses! The kind you don't need on Black Friday or Cyber Monday.
Then you have choices about what to do with the turkey purses: fry, bake, boil or steam. They'll cook up quickest in boiling water, but they'll taste best when deep fried. Baking gives them a nice crust without all the calories from frying.
You can also switch up the ingredients. If the traditional turkey/gravy/cranberry sauce is too boring, eschew the gravy and sauce for harissa and sour cream for a tangy alternative. Or add cilantro and yogurt. Do whatever your tastebuds tell you to do.
Note: 1 cup of the blended concoction yields about 20-30 purses.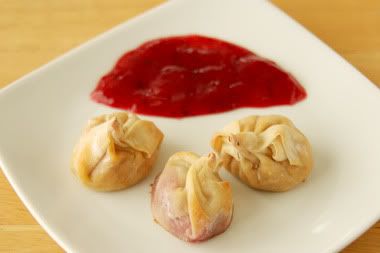 Bake for a nice crunch.
Calorie-friendly steam or boiled purses.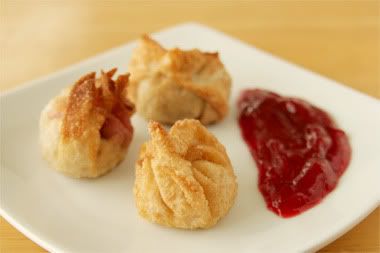 Fried deliciousness.