You know how this story starts. I had some turkey and a hankering for goat cheese, so I looked for an easy way to combine them. Hence, meatballs. Turkey goat cheese meatballs. Balls of meat oozing goat cheese.
It's like a mini version of food nirvana for me.
Since I was only cooking for two, I used half a pound of ground turkey meat. And about two ounces of soft herbed chèvre. If I hadn't put it in the meat, I would've spread it all over crackers. This is an arguably healthier option.
This is just about when I discovered lemon pepper, too. I've had it for a while, but have been hesitant to use it. This time I threw caution to the wind. Somehow the lemon pepper, turmeric, coriander, and paprika were perfect together. Quite deliciously perfect.
I also made a very quick cilantro yogurt sauce for them (chop cilantro and add to Greek yogurt with ground ginger, ground coriander and garlic powder). It was a damn good combination overall.
And disappeared far too quickly. Next time, I'll go for the full pound of meat.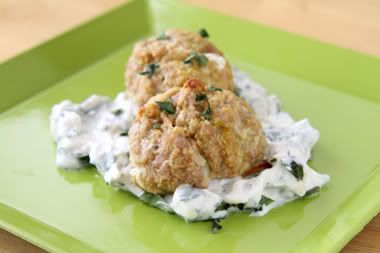 Easy Bake Turkey Goat Cheese Meatballs
A simple baked meatball recipe, stuffed with creamy goat cheese goodness.
Ingredients
1/2 pound

ground turkey

2 gloves

garlic, minced

1

shallot, finely chopped

2 ounces

soft herbed goat cheese

1/4 cup

bread crumbs

1

egg

1 tablespoon

olive oil

1 tablespoon

soy sauce

1/2 tablespoon

lemon pepper

1/2 tablespoon

turmeric

1/2 tablespoon

ground coriander

1/2 tablespoon

paprika
Instructions
1. Preheat the oven to 400 degrees and line a baking sheet with aluminum foil. Lightly spray with cooking spray.
2. Combine all the ingredients until well mixed. Make sure cheese is evenly spread throughout.
3. Roll the mixture into golf ball-size balls. Space evenly on the baking sheet and bake for about 25 minutes until golden brown. Cheese might ooze out.
Details
Prep time:
Cook time:
Total time:
Yield:
9 meatballs