I've been on a caramelization kick lately. For years I thought I didn't like onions, until I had caramelized onions in a grilled cheese sandwich, courtesy of the
Grilled Cheese Truck
. I fell in love. Then there were the
caramelized scallops
, also delicious. Finally I decided to play with fruits.
The story is typical: I had a friend coming to lunch and green figs on-hand, so I scoured the recipe logs for something to do with them. That led me to Gourmet Recipes'
Goat Cheese & Caramelized Fig Bruschetta
. I decided to cook the figs, per the recipe. But instead of putting them on cheese and bread, I flipped it: sweet figs as the base, topped with cheese. We were having pizza, so no additional bread was necessary, though the almonds made a nice topper.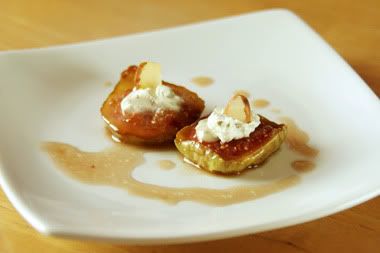 Make sure the figs are firm, otherwise they will fall apart when cooking. Mine were beginning to get a bit soft, so halving them was a better route than slicing into various pieces.
I made this a second time for my parents, and we decided that the sauce could benefit from some brandy. Alcohol is completely optional (I've made it both times without), though it would make a lovely addition.
Caramelized Figs with Goat Cheese
Yields about 4-6 servings, depending on fig size

1 lb figs (about 20 small to medium sized figs)
1 tablespoon unsalted butter
1 tablespoon dark brown sugar
1 tablespoon of brandy (optional

—

original recipe called for vodka, use your taste buds to guide you)
Creamy goat cheese
Slivered almonds

1. Stem and halve the figs.

2. Melt butter and sugar together in a skillet over medium-low heat. Once all the sugar has dissolved, add the figs cut side down. Fry for about 30 seconds on one side, then flip over to for about 10 more seconds on the second side. Work in batches to avoid crowding the pan.

3. Remove figs to serving plate. Top with a small amount of goat cheese and one sliver of almond each.

4. If using alcohol, add it to the skillet. Reduce the remaining sauce to a syrup-like consistency. Pour over figs and cheese. Serve warm.
Dessert: quick and easy.