I love love love sun dried tomatoes. They remind me of happy summer days. Pair them with goat cheese, and you'll pretty much have me eating right out of your hand.
I wanted something easy for Labor Day weekend and found this wonderful
Mango Chutney
incorporating my beloved tomatoes and another favorite: mangoes. It sounded like a party waiting to happen.
Within 45 minutes I could have savory tomatoes and sweet mangoes ready to top any of the millions of varieties of grilled meats this weekend? Color me happy!
I followed the recipe almost exactly. But I can never leave well enough alone (and aren't recipes, like most other rules, really just suggested guidelines?). Instead of using crushed red peppers I opted for using whole dried peppers. That added another dimension of kick. And since my family is made up of Mexican, Puerto Ricans and Indians, food without spice is almost not worth serving.
Note: you can always remove the seeds from the peppers in order to lessen the heat. Or use the recommended crushed flakes.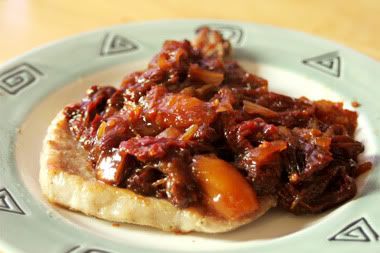 Served over pork. Mmmm.
Sun Dried Tomato & Mango Chutney
adapted from About.com Southern Food
Yields about 3 cups

2 cups water
1 1/2 cups coarsely chopped sweet onion
2 cups coarsely chopped mango
1 cup chopped dried tomatoes
1 cup raisins
1/2 teaspoon crushed dried red pepper flakes (or as many whole/seeded dried red peppers)
1/2 cup light brown sugar, firmly packed
1/3 cup red wine vinegar
2 teaspoons white vinegar
Preparation:

1. Combine the first 6 ingredients in a 3-quart saucepan; bring to a boil and simmer, stirring occasionally, for 15 minutes, or until tomatoes are softened.

2. Add remaining ingredients and simmer for 20 to 30 minutes, stirring occasionally, until most liquid has been absorbed.

3. Cool and pack in air-tight containers. May be kept in the refrigerator 2 to 3 weeks or frozen for up to 12 months.
Enjoy at your next barbecue with grilled meat, as a burger topping, or simply as a side dish. And happy Labor Day weekend!