I kind of enjoy blogging about these kitchen failures. Maybe because I like laughing at myself while cleaning up the mess I inevitably make.
This particular attempt at deliciosity was sparked by a wonderful lunch I had at
McKinley's Grille
in Pomona. They have their own farm on-site and
Chef David Teig
prides himself on a primarily farm-to-table menu.
While there, I was treated to tasting plates of Japanese lantern scallops with citrus ponzu, gorgonzola-stuffed dates with chestnut oil, Angus beef sliders with caramelized Maui onion and sriracha aioli, all mouth-watering. But my favorite was the crispy leeks with truffle salt. Truffle salt! You know I saw that item on the menu and couldn't resist it. Look at it!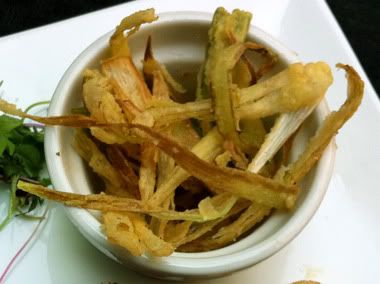 Crispy yummy goodness.
I should have asked the chef for his recipe. I stood there, shook his hand, thanked him for the meal, and didn't ask about my favorite dish? Clearly I'm a dummy.
(And he was so nice, too. I like nice chefs.)
So I had to wing it. Google gave me two options: flour and bake or fry in a pan. I had two good looking leeks, so I figured I'd try both. One of them had to work out, right?
Wrong.
My impatience got the best of me, I'm sure. This is what mine looked like: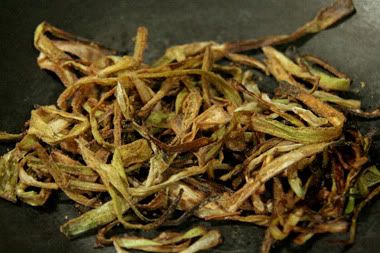 Not at all like Chef Teig's. Nope. These are limp. Flaccid. Crummy. The very opposite of yummy.
Look at them, sitting in my new wok, sad and pathetic. The baked ones were over-floured, the fried ones were...well, they sure were crispy. And tasted like crap.
Failure. Plain and simple. No amount of truffle salt was going to save this. Not that I was going to waste truffle salt on burnt food.
I might be a dummy, but I'm not a complete idiot.