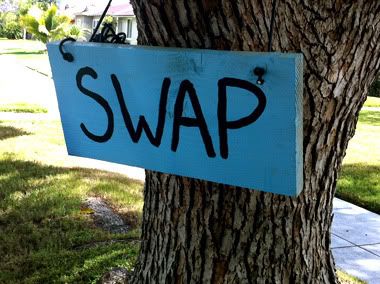 Last week, the lovely people at
GOOD LA
mentioned what sounded like a wonderful event, right there in my hometown: a food swap! People would gather to exchange food they either made or came from their gardens, and all would then go on their merry ways. And in Burbank, right where I was born and raised!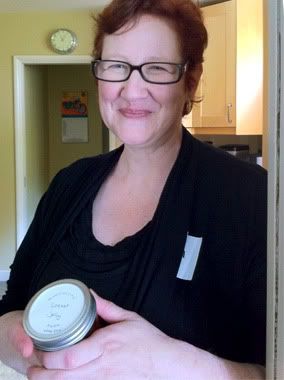 Our host, Faith
I was supposed to be on my way to Riverside for a work conference, but decided that a detour to visit my parents and exchange goods with our neighbors was the better way to spend a Sunday morning. Our little blog mascot, my nephew Alex, also tagged along (bribed by
the promise of a lollipop
or other some such goodness).
I know I am usually pretty snarky on this here blog, but I truly do love community food events, like last summer's
public fruit canning fest with Fallen Fruit
, or the
Olive Harvest at Cal-tech
(also featuring our mascot, Alex). They bring people together in the spirit of fellowship. And in our current state of affairs, it's nice to experience that as often as possible.
I explained to Alex that before people used money to pay for things, they would exchange food like we were doing. His 3 year old mind pondered this for a bit, then he asked when I was going to give him a lollipop. One-track mind, that one.
The rules of the swap were simple: taste each other's food, and if you liked it, offer your food up in exchange. No hard feelings if someone declined.
Our family contribution to the party was my father's green salsa. (I've been meaning to write a post about his salsa for months, but that's another story.) We thought maybe 10 small containers of the green sauce might be too many. Little did we know it would disappear so quickly!
And just as quickly we made friends. That's the wonderful thing about sharing food, you instantly bond with people:
Jane had a forest of rosemary (!), giant lemons, and chocolate chip cookies.
Pam (who is also in charge of the Santa Monica Food Swap) brought an excellent marinade.
Adrienne offered Maskipops, small round cakes on lollipop sticks (which of course made Alex happy).
Rachel came with homemade maraschino cherries (complete with a recipe for Surley Temples!).
Peigi had gluten-free lemon bars.
Christina made bread in a can!
Our host Faith, who opened her home to everyone, had a large array of homemade jams made from loquats, strawberries, apricots—name a fruit, she had jam!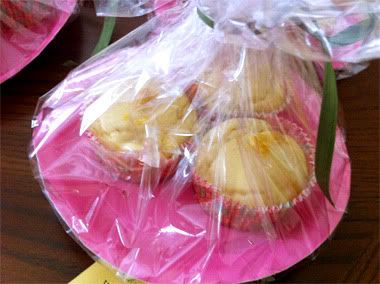 And in the true spirit of community, I ran into an old high school friend! Neither of us even live in Burbank anymore, but we still call it "home." And she brought one of my favorite sauces: chimichurri!
We came home with a larger bounty than we started with. And our little mascot was very satisfied.
The sugar kick he was on for the rest of the day? Well, isn't that what aunties are for?
His parents can pay me back some day...