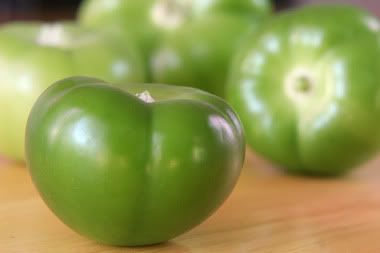 In Puerto Rico, salsa refers to the music that makes the hips shake. In Mexico, it's a condiment. In our house, it's both. But made by a Puerto Rican. And it's good.
It's a bit of a family joke that my Mexican mother cooks the greatest Puerto Rican food, but it's my Puerto Rican father who created his own
salsa verde
, or green salsa.
A Puerto Rican making Mexican food, and vice versa? Yeah, it's a bit like a liger.
This is my absolute favorite. I put it on everything from
pasteles
(
not cakes
) to quesadillas. It's great on hot dogs, hamburgers, scrambled eggs, to add a bit of a kick to just about anything. I like it on rice too, turns it a bit green and a bit spicy.
Of course, it's a great dip for chips.
I've taken it to two
food swaps
now and it always disappears quickly. I'm trying to convince my dad to market it. Till that happens, you can enjoy making it yourself.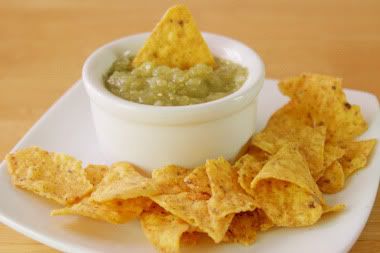 print recipe
Louie's Salsa Verde
Our family's special recipe.
Ingredients
1 pound

tomatillos

11

serrano peppers

1/2

medium onion, chopped

3

cloves of garlic

1

yellow pepper (guero)

1

long green pepper (Hungarian)

3

scallions, chopped (plus 3 additional for garnish)

1/4 cup

cilantro, chopped (save half for garnish)

1 sprig each

thyme, oregano, rosemary, mint

Salt & pepper, to taste
Instructions
1. Remove the papery outer skin of the tomatillos and rinse well (they will be pretty sticky). Dry and chop in half.
2. Place the tomatillos, peppers (remove seeds from the serranos if you're sensitive to heat), onions, and garlic in a saucepan and cover with water.
3. Bring to a boil, lower flame and simmer for 5 minutes.
4. Allow to cool off for a few minutes, until no longer piping hot.
5. Drain but reserve the liquid, and place in blender/food processor. Add the fresh herbs, salt to taste and process for 30 seconds.
6. If mixture is too thick, add reserved liquid and blend until incorporated.
7. Garnish with remaining chopped scallions and cilantro.
Yield: a
pproximately 10 servings