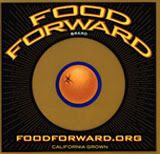 To celebrate their third summer,
Food Forward
opened their new "Fruit-Quarters" in North Hollywood. A play on the word "headquarters," the new Fruit Cave houses the Fruit-mobile and is the center of operations for the numerous fruit pick-ups that they coordinate every month.
A non-profit organization that harvests locally-grown food from private homes and public spaces and then redistributes it to food banks, Food Forward "is an all volunteer grassroots group of Angelenos who care about reconnecting to our food system and making change around urban hunger." Their mission is to "create a community in which the abundance of food available in Southern California is used to feed those who are hungry."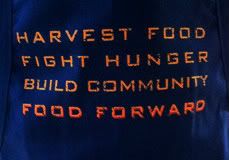 I had first learned about the organization at the
SFV Food Swap
, so my mom and I decided to pop in to the party and learn more. What we found was a group of individuals who are genuinely community-minded and dedicated to eradicating hunger.
The group was founded by Rick Nahmias, a photographer, writer, filmmaker and trained cook. His concern for food justice is illustrated in his moving collection
The Migrant Project: Contemporary California Farm Workers
. Since its inception, Food Forward has grown its partnerships to distribute food to over 35,000 people each month. 100% of each harvest is donated to charity. To date, that equals 448,847 pounds of fruit given to hungry people.
That's nearly half a million pounds of food that would otherwise have gone to waste.
Half. A. Million.
At the opening, I spent a great deal of time chatting with volunteer coordinator Max Kanter. His excitement and energy for Food Forward's mission is contagious! There are "picks" every week around town. This week alone there are four, with another six (so far) planned for the rest of the month.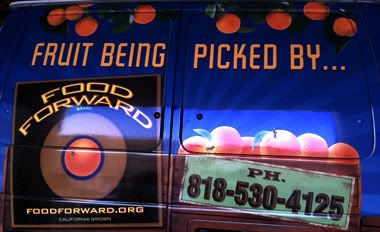 If you have a fruit-baring tree, there's probably more fruit than mouths to feed in your house. Your neighbors probably do, too. If that's the case, consider having Food Forward coordinate a harvest of your neighborhood. (It's tax deductible, too!)
Or if you're simply interested in volunteering for a pick, do! I'll be on on one soon, too.
Check out the
website
. There is an area for
property owners
looking to donate their harvests and
volunteers
looking to do some harvesting. Or if you simply want to contribute via cash money, you can
do that as well
.