I know it's been a little while, but we were talking pizzas for some time and guess what? We still are!
That ball of dough ended up yielding 4 separate personal pizzas. Four very different pizzas: one
veggie-laden
with roasted mushroom & cauliflower (the only way I'll eat cauliflower now), another with
leftover BBQ chicken
and my accidentally delicious harissa caramel sauce, a
sweet and savory pizza
with maraschino cherries, mango and brie, and now an Indian-inspired spinach and paneer pizza.
If you've read about my
previous adventures
with the deceivingly difficult-to-master Indian dish, you know the spice ratio is never quite right for my taste buds. This time, since I was making one very small pizza, I didn't quite know what was going to come of it.
Palak paneer is a North Indian curry made of a blend of onions, tomatoes and spinach, a few peppers for heat, spices, cream and topped with fried paneer (an Indian cheese similar in texture to firm tofu). The basic recipe has the vegetables sautéed with the spices, blended to a smooth consistency, and cream is added to temper the heat. The paneer is cubed then fried in ghee, and added as the topping. Sounds pretty easy, right? Don't be fooled!
Up to this point the spice ratio has never tasted right. I can't tell you what the "correct" amount of each is, and there are as many variations as there are people on this planet. I figure I'll keep futzing with it until the day my taste buds agree. And because this was going to top a pizza, I left the vegetables whole. Otherwise it would've become a pizza with a lot of sauce and little texture. Instead of sautéing the tomatoes, I used my fridge staple
roasted grape tomatoes
. And because I'm a bad Mexican without fresh peppers in the house, I substituted chile flakes (maybe a few too many...). It was an interesting flavor combo on top of a pizza.
But it tasted good. A bit spicy, but what's life without a little spice? The nice thing is that you can add more sour cream on top of the pizza if breathing fire like a dragon isn't on your to-do list today.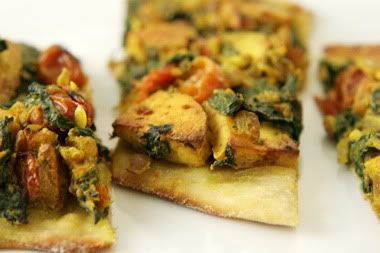 print recipe
Palak Paneer Pizza
Indian food on a pizza? Yes!
Ingredients
1 package personal size pizza dough or 2 ounces of a dough ball

2 tablespoons

olive oil, divided

2 cloves

garlic, chopped

1/2 cup

onion, finely chopped

1 teaspoon (more for heat)

chile flakes

1 teaspoon

ground coriander

1 teaspoon

ground turmeric

1 teaspoon

ground cumin

1/4 cup

sour cream

(more if the heat is too much)

2 handfuls

baby spinach

1/2 cup

roasted grape tomatoes

4 ounces

paneer cheese or tofu, cubed
Instructions
1. Follow the directions for resting the pizza dough and preheating the oven.
2. While the dough is resting, heat 1 tablespoon of olive oil in a saucepan and sauté the onion until browned. Add the garlic in the last minute to avoid burning.
3. Mix in the spices and chile flakes and add the tomatoes and spinach. Cook until the spinach begins to turn a darker color (this happens quickly, don't let it get too wilted).
4. Add the sour cream and remove from heat. Mix so all the ingredients are thoroughly coated (the residual heat in the pan will melt the cream).
5. Brush the dough with a bit of olive oil to keep the dough from absorbing too much liquid from the ingredients.Top the dough with the mixture from the pan.
6. Wipe the pan clean and add the remaining olive oil. Fry the cubed cheese until brown. Add to the pizza.
7. Put the pizza in the oven and bake until the dough is browned, about 10-15 minutes.
Details
Prep time: 5-20 minutes (depending on dough's resting time)
Cook time: 15-20 minutes
Total time: 20-40 minutes
Yield:
1 personal size pizza