And we're still talking personal pizzas!
But this one won't be found on any typical pizzeria. It's a G+F kitchen specialty. A very personal specialty.
Again, I was working with what I had in the fridge. I'd cut up a mango for breakfast, so I still had some fingers. I love me some mangoes. And there was brie (a gift from the hotel I had stayed at during a recent event
—
it's like they did their homework!). I had discovered that this particular brie (a double cream variety) paired exceptionally well with my go-to Belgian white,
Blue Moon
. No orange necessary. But that's a story for another time.
(There may have been beer consumed with this meal. I can neither confirm nor deny that fact.)
Back to the ingredient list, food from the refrigerator: mango cubed, spinach, the gifted brie,
Rachel's maraschino cherries
, and caramelized onions. It basically was 5 of my favorite ingredients on flat bread. There was no way this could go badly.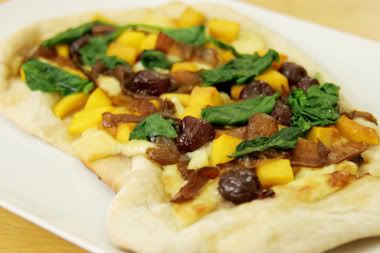 It was delicious. The sweetness from the fruit and onions coupled with the richness of the brie married so nicely with the crispy spinach. And the cherries tended to burst in my mouth, like an explosion of happiness. Mmmm.
I will admit there were huge chunks of cheese on this pizza. I love cheese! I used nearly the entire 5 ounce wheel. You could probably scale back if you're not a rabid cheese-oholic.
print recipe
Maraschino Cherry & Mango Brie Pizza
A delicious combination of fruits, veggies and cheese on flatbread.
Ingredients
1 package

personal size pizza dough or 2 ounces of a dough ball

1 wheel

double cream brie

1/4 cup

mango, cubed

1/4 cup

maraschino cherries

1/4 cup

caramelized onions

A few spinach leaves

Olive oil for brushing on dough

Cornmeal or flour for sprinkling
Instructions
1. Follow the directions for resting the pizza dough and preheating the oven.
2. Spread the dough out to the desired thickness. Sprinkle flour or cornmeal on a baking sheet and place the dough on top.
3. Brush the dough with olive oil to keep the dough from absorbing too much liquid from the ingredients.
4. Cut the wheel in half and make thin slices. Use as much of the wheel as you feel is necessary.
5. Top with remaining ingredients.
6. Put the pizza in the oven and bake until the cheese is bubbly and the dough is browned, about 10-15 minutes.
7. Remove from the oven, pour a beer, and eat. Suggested pairing: a Belgian white like Blue Moon.
Details
Prep time: 5-20 minutes (depending on dough's resting time)
Cook time: 10-15 minutes
Total time: 15-35 minutes
Yield:
1 personal size pizza