It's felt like summer here in Los Angeles all winter long. There have been a few relatively cold days, but mostly just unseasonably warm. Since it feels like summer, we've been having summer cocktails out on the patio.
Sangria hails from Spain. Some generations back, both sides of my family do too. So, you could call this a family recipe. Especially since I created it in my parents' kitchen.
We were having a party. Well, I was using their house to have a little afternoon party. It's like I was a teenager and we were raiding their liquor cabinet. Except we were all adults and...I was raiding their liquor cabinet. But I did bring my own wine. Read the part about being an adult; my parents raised me right.
I also made all kinds of food. The kind you've read about. Like spinach in a lime vinaigrette (a riff on the
semi-raw kale salad
),
kale pesto
, little wonton cups to eat them out of. But the yummiest part of the afternoon was the sangria.
2 bottles of Charles Shaw nouveau table wine, a liter of ginger ale, a cup of brandy, a bunch of sliced oranges, lemons, limes, and nectarines gets you a quite tasty concoction to ladle out of punch bowl.
Other recipes will tell you to add sugar, strawberries, better wine, etc. You can do that. You can also keep it simple and do what I did: use a wine you've never tasted, betting that it will meld well with whatever brandy was in my parents' liquor cabinet. It was a stroke of luck.
Letting this combination sit for about an hour gives the flavors time to mingle and marry. And then you'll have a delicious good time.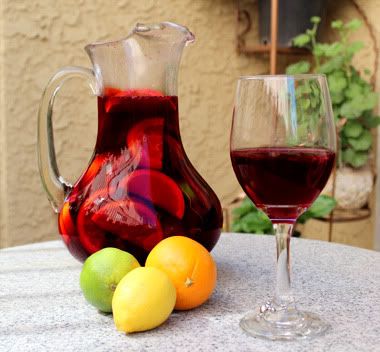 Summer in winter.
Ingredients
2 bottles

red wine

1 liter

ginger ale

1 cup

brandy

2

large oranges, sliced in rounds

3

lemons, sliced in rounds

3

limes, sliced in rounds

2

nectarines, sliced
Instructions
1. Add all the ingredients into a large punch bowl, stirring to combine.
2. Put in the refrigerator for about an hour to allow flavors to meld.
3. Ladle into your favorite glasses.
Details
Yield:
1 large punch bowl