About a month ago, I got the urge to host another
Chopped dinner
. Unfortunately I knew I wasn't going to be home much to actually host four people at my house (case in point, it's taken a month to actually make the meal). Instead I asked the
Facebook fans
to suggest four ingredients that I would then use to make myself dinner one of these days.
They did not go easy on me.
The winning ingredients were sweet potato, truffle oil, bok choy, and kohlrabi (winning = first four people to respond). Except for the truffle oil, none of those ingredients had ever seen the inside of my kitchen. I've eaten sweet potato and bok choy, sure...but what the hell is
kohlrabi
???
I had no idea what to do.
After a month of contemplating (and learning all the different ways to use that
weird turnip-looking vegetable
up there on the upper right corner of the plate) I decided to roast everything, stuff them into lasagna rolls, and drizzle with truffle oil. Because all vegetables taste better roasted. In pasta. With truffle oil.
(Yes, roasting is a bit of a cop out. So what? I had to make it tasty so I'd actually eat it.)
Off I went to shop. The fancy-schmancy organic produce store didn't have kohlrabi, but the cheap produce store did (weird). And the sweet potatoes were next to the yams
—
they're not the same thing
.
White-fleshed sweet potatoes are on the left and the yams are on the right.
But when I got back home, I couldn't bring myself to roast the beautiful baby bok choy. Sure, that's a thing you can do, but they were so fresh, I opted to blanch them to retain the color.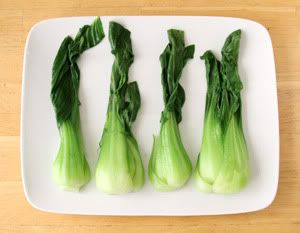 So pretty.
I needed a sauce for this, and realized I didn't have anything resembling pasta sauce in the house. I had even planned to make a pineapple truffle oil topping...but somehow completely forgot about my favorite ingredient in my last minute panic. I would have been "chopped" for sure had this been a real competition. I improvised with some tomato paste and chipotle. Spicy!
The final dish: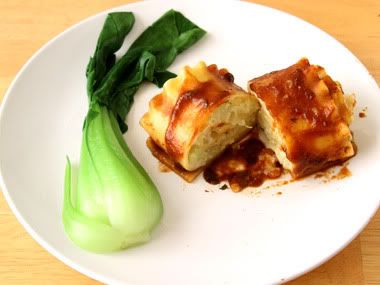 Lessons learned: the kohlrabi took much longer to roast than the sweet potatoes. But since I mixed them together on the same pan, I couldn't separate them out. Note for next time. Also, kohlrabi is not my favorite vegetable. Even roasted it wasn't yummy. However, it did add a bit of texture to the roll-ups. Two of each of the veggies made enough for 6 pasta rolls and a LOT of leftover stuffing. I ended up serving this to two different people (like I'm going to eat 6 of those by myself, that's suicide by carbs!), both of whom claimed to like it. I think they were just being nice.
The verdict: I probably won't be making it again. I appreciate the G+F fans' tripping me up with unusual ingredients. And for the education I received regarding kohlrabi. But I really didn't care for it. However, it was fun to try something completely new. Maybe this will become a monthly experiment!
If you want to try your hand at it, enjoy the recipe!
Roasted Sweet Potato & Kohlrabi Lasagna Rolls
Roast the vegetables, roll into pasta, and enjoy.
Ingredients
2 tablespoons

olive oil

2

medium sweet potatoes (white flesh variety)

2

medium kohlrabies

12

strips of lasagna noodles, cooked and drained

1 cup

ricotta cheese

1

egg, lightly beaten

1 can

tomato sauce, or any sauce you like (chunky salsa might spice it up nicely)
Instructions
1. Preheat the oven to 400°F. Chop the vegetables into 1-inch chunks, drizzle with olive oil, and roast for about 30 minutes or until just beginning to brown. (The kohlrabi might take longer, so you may want to use 2 pans.) Allow to cool a bit. Leave the oven on.
2. Mix the vegetables with the cheese and egg until well combined.
3. Evenly spread each noodle with 2-3 tablespoons of the mixture and roll up, starting at the short end.
4. Place roll-ups in baking dish, top with your choice of sauce, and bake for 30-40 minutes.
Details
Prep time:
Cook time:
Total time:
Yield:
12 rolls