I've learned that I like
smoked oysters
. A
couple of ways
. This experiment started as a smoked oyster pâté. I was working on a cross between the recipes from
Food52
and
Joseph Phelps Vineyard
, both of which use cream cheese.
But I decided to use a super strong
Egyptian Istanbolli
cheese my mother found was too salty for her, so she pawned it off on me. As soon as I tasted it, I knew I would use it in this dish.
The feta-like cheese was so strong I cut back on the salt and lemon. I also only used half of the Worcestershire sauce because of its high sodium content. Switching out parsley for oregano (I never have parsley on hand, but I always have oregano
—
must be the Latina in me), adding more garlic, and foregoing the lemon zest completely led to a tasty combination. I almost wish I'd left out the Tabasco, it really doesn't add much more than a sour vinegar-y flavor. My other mistake was in using all three tablespoons of milk at once. Given the oil from the smoked oysters (though drained), there was a bit too much liquid.
Therefore, I made a creamy dip instead of a thick pâté. This would make a great sandwich spread, or bagel schmear.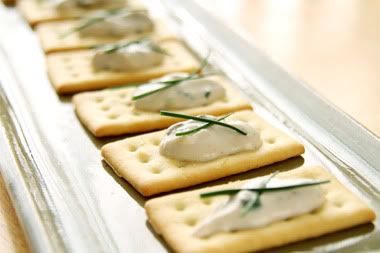 It's good party food. And a perfect vehicle for the fresh chives I recently acquired. I love chives in anything. Even with smoked oysters. They make pretty, edible garnishes.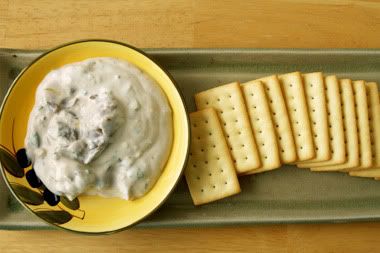 Smoked Oyster Dip
A creamy cheese-based dip perfect for parties.
Ingredients
8 oz

Istanbolli cheese (can substitute cream cheese, feta, goat cheese or even ricotta)

2 tablespoons

scallions, finely chopped

1 tablespoon

Worcestershire sauce (to taste)

2

cloves garlic, minced

2 tablespoons

fresh oregano, finely chopped

2 tablespoons

chives, finely chopped

3 tablespoons

milk

1 three oz

can smoked oysters, packed in olive oil

dash

hot sauce, such as Tabasco

salt & pepper, to taste
Instructions
1. In a bowl, combine the cheese, scallions, garlic, oregano, chives, hot sauce, and Worcestershire sauce.
2. Add the milk a bit at a time, until you reach the thickness you prefer. All three tablespoons lead to a very thin dip, less to a thicker pâté-like texture. Remember you might add oil in the next step.
3. Add in the oysters, using a bit of the flavorful oil in the mix. Add the salt and pepper at this point, if needed.
4. Spread on crackers or bagels, or serve in a dipping bowl.
Details
Yield:
4-6 servings