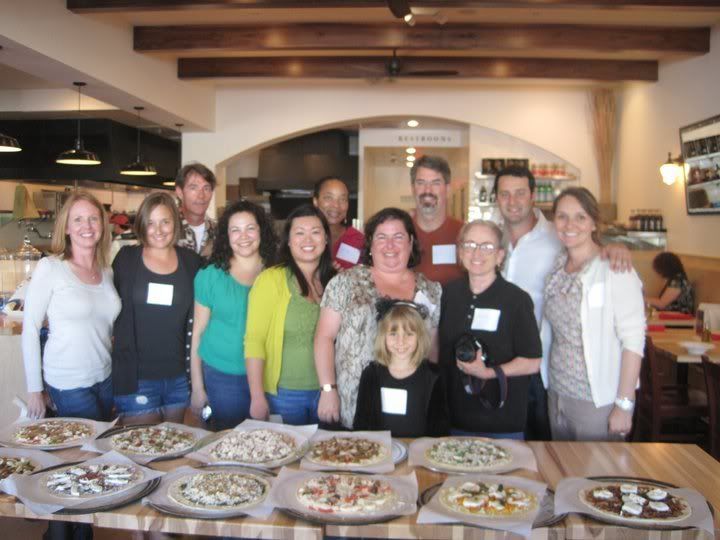 The bloggers,
picture courtesy of Rosti Tuscan Kitchen
Last week a few of LA's food bloggers were invited to
Rosti Tuscan Kitchen
to create something new for their Pizza of the Week menu feature. The guest list was intimidating; a bunch of people whose blogs I adore and then little ol' me:
Some of these bloggers are
real
chefs, not just novice food enthusiasts like me. And up for grabs was the bragging rights of having your pizza featured on Rosti's menu for the first week in October
plus
free pizza for an entire year. Surely the pros had this, right?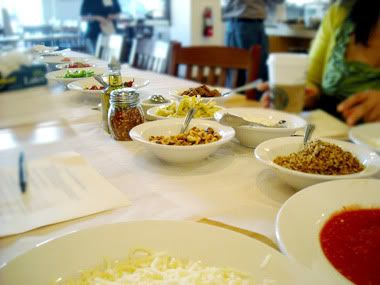 All the fixings
We were each given a disc of pre-rolled dough and the ingredients were laid out on a long table for us to mix and match. Among the offerings were mozzarella, pesto, bell peppers, smoked gouda, hazelnuts, meatballs, olive oil, balsamic vinegar, and my
new favorite
: caramelized onions. We could also use anything else they might have in the kitchen, so I opted for pancetta. Like bacon, pancetta makes everything better.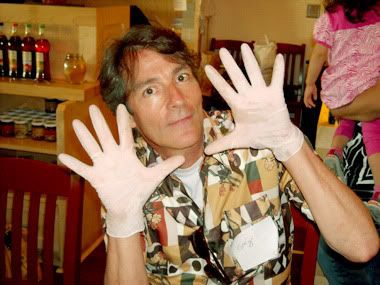 Greg, gloved and ready
to make pizza
The intimidating crowd of food experts were actually really cool, down to earth, welcoming people. I got to sit right across the table from Greg, whose baby artichokes recipe was one of my
recent experiments
. We grabbed our ingredients and went to work on our naked pizza dough.
Some of the pizzas made were absolutely beautiful. While I just threw mine together and made it look like a standard pie, most everyone else took the time to make art.
Kim shows off her beautiful pie
Then it was time to taste and judge. Given my
dietary concerns
, I was very careful to eat the least amount of crust possible but still get the full flavor of each slice. They were all delicious in different ways. Erika made a paste out of figs and goat cheese for hers. Kim used the anchovies and balsamic to make an interesting sauce. Lynne topped hers with shrimp. There was a lot of joking around the table and many compliments to each pizza.
Finally the votes were tallied and the winner was announced. In third place was Lucy's with butternut squash, gorgonzola, and sage. Greg came in second with his onions fried in balsamic vinegar creation. And the person to get a year's worth of free pizza with a pesto and honey balsamic combo was...me! I couldn't believe it. Apparently I produced a crowd favorite: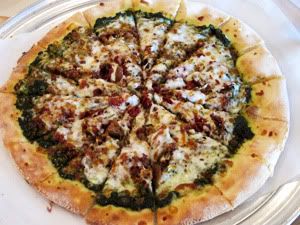 The Balsamic Pesto Pie, photo courtesy of Erika Kerekes
Many thanks to Rosti Tuscan Kitchen for inviting us all to play with their menu and to my fellow pizza-making comrades for voting my pizza numero uno. (Bad pun.) It was a fun afternoon!
The pizza will be on the menu the first week in October. I'll post the recipe in the days leading up to that. For now, become a fan/like
Rosti's Facebook page
and check out more pictures from this event.