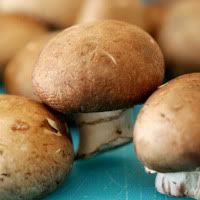 I spent a week making pizza almost every night because a ball of dough makes a lot of personal pizzas. I took the opportunity to experiment with a bunch of different toppings based on whatever was in the kitchen. It was fun.
This particular pie was inspired by Pamela of
My Man's Belly
. She had posted a pizza recipe using roasted mushrooms. I'd never thought about roasting mushrooms, but the idea intrigued me. I was out of shallots so I couldn't make her exact recipe, but I did have roasted cauliflower which, if you've been reading for any amount of time you know, is the only way I'll eat it.
I know that roasted cauliflower on a pizza sounds odd. But add in some shredded mozzarella, spinach sauteed with garlic, a little
adobo seasoning
, and 10 minutes later there was a pizza waiting to be devoured.
I used crimini mushrooms, but just about any mushrooms should work. Pamela used a mix. Do whatever you like!
So simple, yet so delicious. Thanks to Pamela for her inspiration. Turns out that roasted mushrooms are really good in lots of dishes!
print recipe
Roasted Mushroom & Cauliflower Pizza
Roasted veggies on a pizza pie.
Ingredients
1 package personal size

pizza dough or 2 ounces of a dough ball

1 pint

crimini mushrooms, chopped

1 cup

roasted cauliflower florets

2 cloves

garlic, minced

2 cups

spinach, packed

2 cups

shredded mozzarella

3 tablespoons

olive oil, divided

1 teaspoon

Adobo seasoning (or regular salt & pepper)

Cornmeal or flour for sprinkling
Instructions
1. Follow the directions for resting the pizza dough.
2. While the dough is resting, heat the oven to 400 degrees. Toss the mushrooms and cauliflower with 2 tablespoons of olive oil and seasoning. Line a baking sheet with foil and spread the mushrooms and cauliflower out evenly. Roast for 20 minutes. Mushrooms will turn a deep brown and the florets will look burnt

—

don't worry, they're supposed to! (If using a pizza stone, put it on the lowest rack while the vegetables are roasting.)
3. While the vegetables are roasting, heat the remaining tablespoon of olive oil. Sauté the minced garlic but don't let it burn, about 1 minute. Add the spinach and sauté for a few minutes, until it wilts slightly. Remove from heat.
4. Remove the pizza stone (if using). Check the instructions on the pizza dough and adjust the temperature accordingly.
5. Spread the dough out to the desired thickness. Sprinkle flour or cornmeal on a baking sheet or the pizza stone (if using) and place the dough on top.
6. Sprinkle half the cheese all over the dough. Add the vegetables, then the remaining cheese.
7. Put the pizza in the oven and bake until the cheese is bubbly and the dough is browned, about 10-15 minutes.
8. Remove from oven, slice, and eat.
Details
Prep time: 20 minutes
Cook time: 10-15 minutes
Total time: 30-35 minutes
Yield:

1 personal size pizza