Before it got super ridiculously hot, I was doing crazy things, like baking. I don't know what's gotten into me, since cleaning up after baking can be soooooooo time consuming. But when I found
this recipe
for Mexican spiced chocolate cookies, I was intrigued. Plus, it was another opportunity to use my
shiny red mixer
.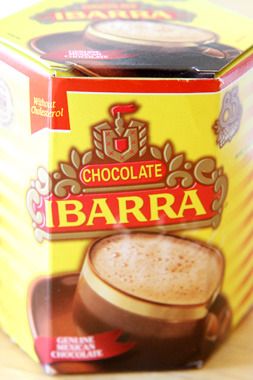 When I read through the recipe, I was dismayed that it didn't actually call for Mexican chocolate. Come on, brown people aren't the only ones that use cayenne and chili powder! No, what this really needed was authentic Mexican chocolate, the kind my mom used to make us hot chocolate with when I was little.
Chocolate Ibarra
, to be exact. The octagonally-shaped cylindrical package was a staple in our house like Nestle Quik probably was for my school mates (though we indulged in Nestle Quik too). There's a comfort in my memories of that steaming cup of chocolate.
But because this is not unsweetend chocolate, I had to cut back on the sugar too (by half—though I probably could have done without it completely). I also had to double the spices because a quarter teaspoon of cayenne is child's play. Even with that modification, they spice factor still wasn't up to my expectations. More spices!! You can't call something "spicy" if it isn't, indeed, spicy!

This also didn't need the additional chocolate chips, but walnuts would've been nice. Or spiced cacahuetes (peanuts). It was a bit of chocolate overload. Not that that is a bad thing...
The recipe calls for an entire stick of butter, so the cookies are exceptionally chewy. If you're calorie-conscious, this isn't the recipe for you. I suppose you could cut back, but not being a baker I'm not sure exactly how that would impact the final product. Other than giving you a slightly more brittle cookie. Diet cookies? Ick.
Finally, the cookies should be finished with a bit of sea salt. The G+F taste testers agreed the salted cookies were superior to the non-salted version. Plus, they just look prettier!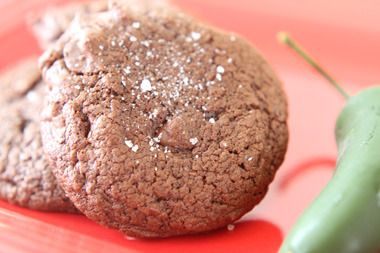 Spicy Mexican Chocolate Cookies
Ingredients
1 stick (4 ounces)

unsalted butter

4 ounces

Chocolate Ibarra or other Mexican chocolate (available in the ethnic aisle or a Latino supermarket)

1/4 cup

packed brown sugar

1/4 cup

granulated sugar

2 teas

poons

vanilla extract

2

large eggs

1 cup

all purpose flour

1 tablespoon

ground cinnamon

1 tablespoon

chili powder

1 teaspoon

cayenne pepper

1/2 teaspoon

baking soda

1/2 teaspoon

kosher salt

medium coarse grain sea salt for sprinkling
Instructions
1. Preheat the oven to 325 degrees F.
2. In a heatproof bowl set over simmering water, melt the butter and chocolate together, whisking until glossy and smooth. Alternatively, the butter and chocolate can be melted in the microwave (in a microwave-safe bowl) in 25-second increments, whisking between each interval. Cool the chocolate mixture to room temperature.
3. In the bowl of a stand mixer fitted with the paddle attachment (or a hand-held mixer), beat the brown sugar, granulated sugar, vanilla extract and eggs on low speed until well combined. Pour in the cooled chocolate and continue to mix until the ingredients are evenly distributed.
4. In another bowl sift together the remaining dry ingredients (flour, cinnamon, chili powder, baking soda, salt and cayenne pepper). Add this to the chocolate batter and mix on low speed until just combined and no visible flour remains.
5. Working in two batches, scoop 12 balls of dough (about 1 1/2 tablespoon size) onto a parchment-lined sheet pan, leaving at least 1 1/2 inches of space between each cookie (they will spread greatly). Bake the cookies, one pan at a time, for approximately 14 minutes, rotating the pan halfway through cooking time. The cookies should be puffy and still fairly soft when removed from the oven.
6. Immediately slide the the parchment paper onto a wire cooling rack. Cool just a bit before serving, 5 to 10 minutes, then finish with a sprinkling of sea salt. Cookies can be stored in airtight container for up to three days.
Details
Prep time: 20 minutes
Cook time: 15 minutes
Total time: 35 minutes
Yield:
2 dozen (24 cookies)