For the last 25+ years, my family has been frequenting the same Thai restaurant in Burbank. To pass it on to the next generation, my brother's family orders take-out from it regularly. I have always ordered the chicken satay. I love slathering the chicken skewers with peanut sauce and then sprinkling on the sweet vinegar from the cucumber salad before popping it in my mouth. To this day, it reminds me of being seven years old.
But what is that sweet and sour relish filled with cucumbers and onions? Oh, it's known by many names, but the proper name is ajad. Or ajat, ached, or อาจาด. My Thai friend Oakley, she of the
Oakmonster food blog
—and the catalyst for the
bacon scotch
we always keep on hand in the G+F kitchen—told me ajad is correct. And because she will play tour guide on my eventual trip to Thailand, I believe her. She's also originally from Bangkok, so she should know.
And who knew it was the easiest dish to make? Certainly not seven year old me, who believed this sweet and sour concoction must be magical. I was always afraid to finish it for fear that there would be none the next time. The innocence of childhood!
But it truly is so simple. Cut up a cucumber, some shallots, a pepper (I prefer red Fresnos for color, as do the folks at
Saveur
), boil some water, mix it with vinegar and sugar, toss in some cilantro, and you're done. Waiting for it to cool enough to eat is the hardest part.
This keeps well in the fridge for quite some time, given the preservative qualities of the vinegar (and sugar). I now consistently keep it on hand. Because it IS magical. And I never want it to disappear!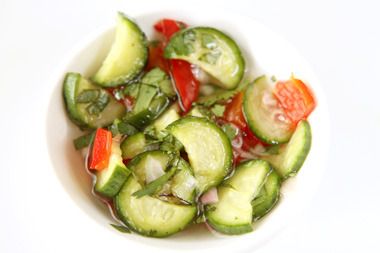 Saveur's recipe calls for a LOT of shallots. I rarely use more than one small one for a large cucumber. Your mileage may vary.