The same day I tested the
Mexican chocolate cookies
, I tested a recipe courtesy of
The Sweet Life
. Vianney has spent more time in Mexico than I have, and I was excited to taste this dish I'd never even heard of.
The only way I've ever eaten jicama is raw, cut into sticks and sprinkled with chile for
pico de gallo
. I really like it this way, so I was intrigued by the sweet turn.
Jicamas are ugly on the outside. They look like dirty roots. But you know what your mother said about judging books by their covers. They're similar to potatoes in firmness, but blander in taste. They actually don't have much flavor at all, which is why you often see them with the chile! Or with lime juice (or both).
Apparently my sweet tooth is of a Mexican variety, given I made this and the chocolate cookies at the same time. But I really liked this recipe. It's simple, as cooking should be. And I love Vianney's stories. Of course, I had to make modifications, because when do I ever take the easy route? I couldn't find unsweetened coconut, so that's where it started.

The orange juice took far longer to boil off than Vianney's recipe stated. Maybe she boiled at a higher level of heat. I was being overly cautious, not wanting to burn this. And since I was using sweetened coconut, I simply left out the sugar…though it still came out tremendously sweet. This is something you eat in small quantities, like a tiny bit on ice cream.
The G+F taste testers were all on board. Luckily none of them hate coconut, like some people who confound me. I love coconut! Especially the fresh coconuts we'd have in Mexico when I visited as a child. The street vendors had huge green ones they chopped open with machetes and then stuck a straw in for your slurping delight. Such good memories of visiting family.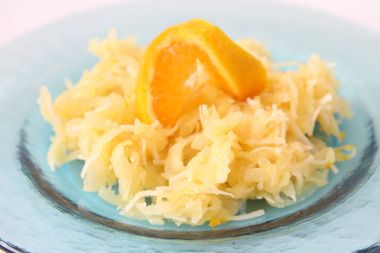 Maybe next time, we'll all indulge in this dulce!