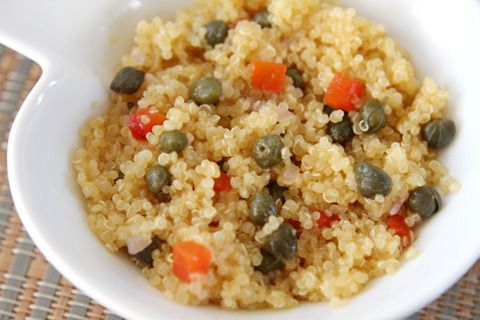 I've been feeling stuck in the creative doldrums lately. I haven't been taking pictures, haven't been cooking, and certainly haven't been blogging. I
have
been working like a mad woman on that event planning thing that pays the bills, so that's partially to blame. To combat this, I forced myself back into the kitchen this past weekend, behind the stove
and
lens, and ran tests on three separate dishes.
It was good to be back. I even removed the safety net of food experimentation and invited friends over to taste what could have been three separate disasters. Turns out I might actually know how to cook, so not only did I not burn my house down, I scored a home run on all three.
Or, maybe three touchdowns? I had football on the entire time. I have three fantasy teams to keep track of, after all! There's a theme here...
The most popular dish was a riff on a
Food 52 recipe
. Instead of couscous and olives I opted for quinoa and capers because why the hell not? I really had no other reason.
There's something elegant in simplicity. A handful of simple ingredients + 20 minutes = a big explosion of deliciousness in one's mouth. Those little green capers will do that to you. They're like teeny bombs of sour awesomeness.
I'd actually made the original recipe a few months back. It's good. This was better. Capers kicked it up a few notches.
And it's not the first time I've played with cooking quinoa in unconventional ways.
Quinoa for breakfast
, anyone? Cooking it in orange juice didn't seem like too far a stretch.
I was also testing a recipe full of roasted red peppers, so I cut one up and threw it in this dish for a nice dash of color. But you could just as easily use pimento for a sweeter kick. That's what would probably be stuffed in your olives anyway. Life is full of choices.
Thank you to my wonderful buddies
Elise
,
DeShawn
, and
Rob
for their input. To quote one of them, "the capers and orange juice did a dance on my tongue as they co-mingled together." How great is that? You can make your tongue DANCE with this!
And thanks also to my mom for this cute little dish. I love it.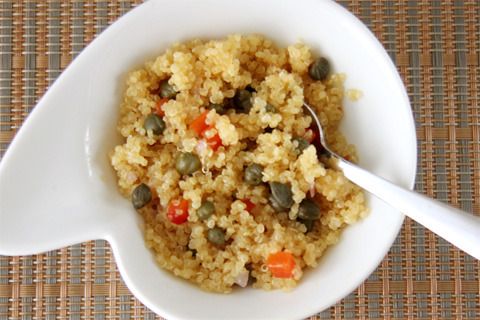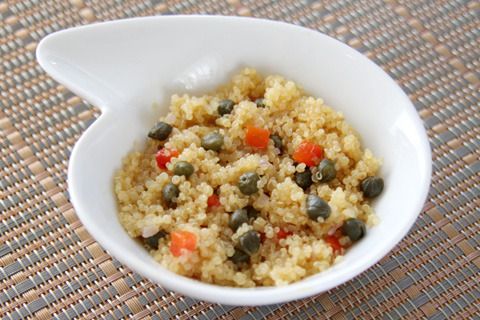 Citrus Quinoa
A flavor combination that will make your tongue dance.
Ingredients
1 cup

quinoa

1 3/4 cup

orange juice (no pulp)

1

medium shallot, minced

1 tablespoon

olive oil

1 tablespoon

capers

1 tablespoon

roasted red pepper, minced
Instructions
1. Rinse the quinoa until the water runs clear (this removes the bitterness), then place in a pot with the orange juice. Cover, bring to a boil, then simmer for 20 minutes, until fully cooked.
2. While the quinoa is cooking, sauté the minced shallot in olive oil until translucent.
3. Once the quinoa is finished cooking, fluff with a fork and fold in the shallot, capers, and pepper. Serve warm.
Details
Prep time:
Cook time:
Total time:
Yield:
2 cups