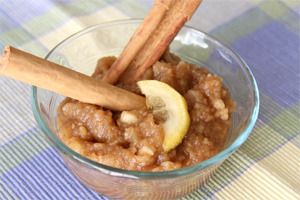 Warning
: this apple butter will make you drunk.
It's also full of stuff that's good for you, so as you're hitting the point where you're too dizzy to stand up straight, at least you're also getting some fruit in your system. And you know what they say about apples and doctors and such.
I really like apples, which is partially while I'll never die (at least not from seeing a doctor). I also really like applesauce because it reminds me of my childhood. And apple pie. Mmm. I experimented with this twice, both times with a cup full of Highland Park 12. Not
bacon scotch
, mind you, but a just a good single malt. The house smelled divine.
Making applesauce is pretty easy: chop up a bunch of peeled apples (or unpeeled, if you have a food mill—I don't) and let them simmer in a bit of water with cinnamon until the apples break down into mush. It'll take about an hour. You can liven it up by dropping in some orange zest stabbed with cloves. Also yummy. Or, you can add a cup of scotch and some lemon zest and enjoy the aroma as your apples get drunk. (Pour yourself a shot too.)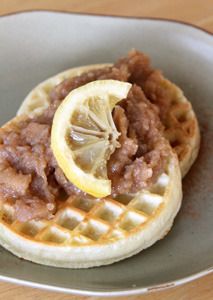 That last one is my favorite.
The first time I made this, I didn't mash the apples up much so the texture was a bit more chunky. As taste tester
Whisky Guy Rob
ate it, he fantasized about putting it on waffles or ice cream. So I had that for breakfast. It's a
hot toddy
on a plate!
The second time, I opted to use the food processor and get the consistency down to a smooth apple butter. Then I served it to a bunch of food bloggers. The reviews were hilarious.
Don't say you weren't warned!
Next time I'm baking this into a pie. Drunken apple pie!!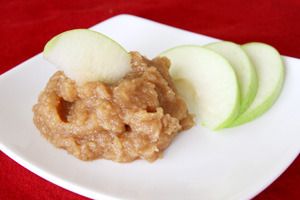 Whisky Apple Butter
A decidedly adult twist on the standard comfort food.
Ingredients
1 tablespoon

unsalted butter

2 tablespoons

fresh ginger, chopped (about a 2-inch piece)

2 large

Granny Smith apples, peeled and chopped

3 medium

Gala apples, peeled and chopped

1 cup

dark brown sugar

1 tablespoon

ground cinnamon

1 tablespoon

lemon zest (tied in a muslin pouch)

1/2 teaspoon

salt

1 cup

quality single malt scotch whisky, such as Highland Park 12
Instructions
1. Brown the butter in a large saucepan. Once you can smell the slightly nutty aroma, add the ginger and sauté for one minute.
2. Add remaining ingredients: apples, brown sugar, cinnamon, salt, lemon zest in its pouch, and bourbon. Simmer uncovered until apples are very tender and liquid is almost all gone, about 60 minutes.
3. Remove lemon zest pouch and mash the apples for a chunky consistency. Or, puree in a food processor until desired consistency is achieved.
Details
Prep time:
Cook time:
Total time:
Yield:

6-8 servings