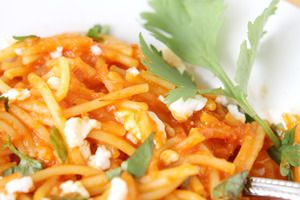 When I came across Aida Mollenkamp's recipe for a
roasted red pepper pesto
, I was intrigued. But as I read through it, I was disappointed by the ingredients.
Don't get me wrong, I love goat cheese. It's my favorite cheese. But the rest of the ingredients lacked
oomph
. I have a serious disdain for red pepper flakes.
They are fine on pizza, if you're into that. But for my sauce, I wanted a good spice kick blended throughout and not little flakes getting stuck in my teeth. At first I considered adding
sriracha
, but thought it might be a bit too extreme. I settled on chipotle peppers. And that's when this became a Mexican dish.
I figured chipotle and my beloved goat cheese, both being strong flavors, would compete for attention, but chipotle and
queso fresco
pair beautifully together. And it crumbles so nicely. Great on refried beans, delicious on chipotle & roasted pepper spaghetti. And since we were already going the Latino route, why not go all the way and use cilantro instead of thyme?
What came out was nothing like what Aida started with. It was so much better. Even without nuts.
The next morning, one of the taste testers mixed this dish with the
citrus quinoa
, wrapped it in flat bread and called it breakfast. He then
tweeted a picture
. Boys. They'll eat anything!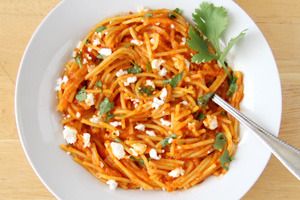 I think this sauce might be equally as good as a soup. That's an idea for next time.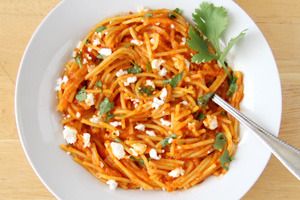 Roasted Red Pepper & Chipotle Pesto
Ingredients
1 pound

spaghetti

2 tablespoons

olive oil

1/2

yellow onion, halved and thinly sliced

3

garlic cloves, thinly sliced

1/4 cup

tomato paste

8

roasted red peppers (1 16-ounce jar), chopped

1

chipotle pepper in sauce

2 tablespoons

chipotle sauce

2 teaspoons

sugar

1 teaspoon

kosher salt

6 ounces

queso fresco (Mexican white cheese), crumbled

2 tablespoons

fresh cilantro, chopped
Instructions
1. Cook the pasta according to the directions. Reserve 1 1/2 cups of the past water then drain the pasta.
2. While pasta is cooking, heat the olive oil until shimmering. Add the onion and cook until just as it begins to take on color, about 5 minutes over medium heat. Add the garlic for the last 30 seconds.
3. Add the tomato paste, both types of peppers (roasted and chipotle), chipotle sauce, and sugar (this balances the sourness from the tomato paste). Cook until thickened.
4. Transfer the sauce to a blender and process until smooth. Return to the pan with the drained pasta and salt, and stir to combine. Add 1 cup of the pasta water and cook over medium heat until the sauce clings to the noodles. Add more water as needed to thin the sauce.
5. Serve topped with crumbled cheese and chopped cilantro.
Details
Prep time:
Cook time:
Total time:
Yield:

6-8 servings