I don't know what your conferences are like, but apparently when you have one for meeting industry professionals, there will be alcohol EVERYWHERE.
I'm not complaining. I just wonder if this is true for everyone else.
Last week
I regaled you with stories of eating my way through Las Vegas. Part two is all about the accompanying libations.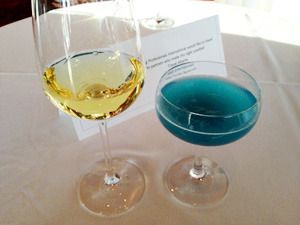 At our first stop at the Paris Hotel, we were greeted by tuxedoed waiters offering two types of wine and something blue. I've learned that I can't drink anything that is sweet because I will end up very sick. And that's not how one comports themselves while trying to network. The blue drink was VERY sweet.
I don't know what was in it, but it was red on the bottom. Pretty, but suffice to say it screamed danger to me, so I stuck to the white wine.
The next night our local friends treated us to the "local experience": the
Double Down Saloon
. 10 years ago it was called The Junkyard and we had taken a party bus from LA to Vegas to see my friend's band play in it. It's still a terribly awesome dive bar, but now there's a half-full vending machine in it.
Their two signature drinks are the Bacon Martini and Ass Juice. Yes, you read that correctly: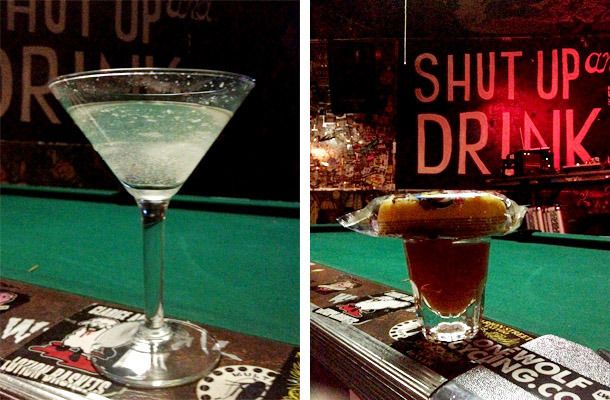 The martini is nothing more than a typical vodka martini with smokey bacon flavoring added. It's not horrible, but you don't need more than one. The ass juice shot is served with a Twinkie. Twinkies have a shelf life of about one million years, and I loved them as a kid. But as an adult, one bite and I can't imagine what I ever found appetizing about them. As for the "juice," it's super sweet. No idea what's in it, but I stuck to beer lest I end up needing the puke insurance they sell at the bar.
No joke. I mean, look at the sign behind the pool table. Insurance is $20.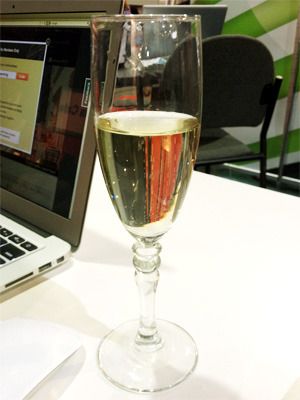 Back on the tradeshow floor, there was free alcohol everywhere. Every third booth had champagne. And then the floor receptions! The photo at the top of this booth was from the tequila tasting in Mexico's booth.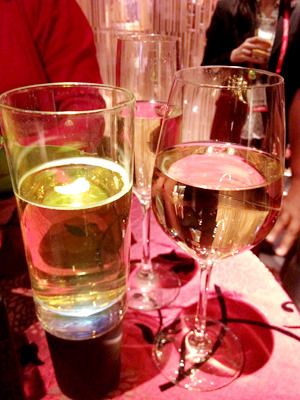 At the end of one day, the Japanese tourism group gave us sake, then whisked us off to a Japanese restaurant with more champagne. And beer. And wine.
The next party took us to the Hard Rock Cafe, where I stuck my
cake pop
in my beer. And then there was dancing. Because that's what you do when men in afro wigs are playing funk music for you. You dance!
And eat cake pops.
After the big closing night party at a hip nightclub...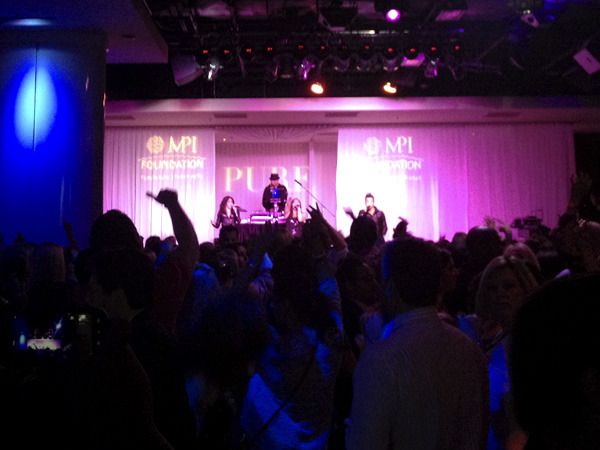 ...we returned to the Double Down on the last night of our stay. Apparently we felt the need to go from high brow to very, very low brow for the after-party. Inside we found a few wayward Australians (different than the ones from the first night) that were also in town for the conference. Who knows how they wandered so far off the strip, but they'd never had Twinkies so they ordered one of these shots...and immediately regretted the Twinkie offering. It was pretty hilarious.
I love Australians.
I have three conferences in Las Vegas in 2013. I imagine I'll be seeing the Double Down a few more times, if my friends have any say. Though I'll probably avoid the Twinkies.