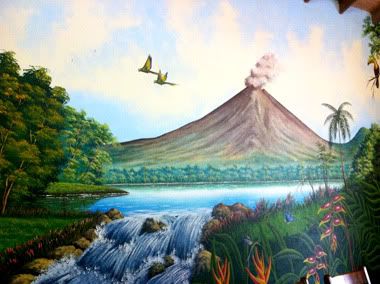 (
Part 1
and
Part 2
, if you're playing catch up!)
Post-afternoon nap I woke up as we were entering the grounds of
Lomas del Volcan
, a very cute resort on the north side of the infamous volcano (and the location of this mural). Side note, if you find yourself traveling to Costa Rica, STAY HERE. It was $100 for a private bungalow and breakfast. The staff is remarkably sweet (as are all Costa Ricans) and the place is absolutely darling. There's also a volcano hiding behind it, for bonus points.
We unpacked and headed to the restaurant/bar. Because what else are you supposed to do when you import a bunch of duty-free American liquor in your luggage? American liquor just doesn't have the same appeal as a bar full of Costa Rican delights! Vacation philosophy.
Here is where we learned of a drink called
guaro
, commonly referred to by its brand name
Cacique
. It's made from sugar cane and is absolutely lethal. Served up like a double shot of tequila, replete with lime, it is not for the faint of heart or mere casual imbiber. Clear, smelling like it will kill you, it's reminiscent of grain alcohol. We decided not to indulge in
guaro
beyond the first sip, lest we burst into flames.
So we drank beer. And then I got sleepy again. My traveling companions were growing weary of my lethargy and insisted I wake up. So I switched to rum and coke, or as our bartender jokingly referred to it, a Costa Rica Libre. And wow, I suddenly had energy.
(For you Pepsi drinkers: I honestly cannot tell the difference, but you won't find Pepsi in Costa Rica. And it doesn't taste like Mexican Coke either, unfortunately. They import the same high fructose corn syrup variety Cokes that we get here.)
But wait, this is a food blog, yes? Dinner was a delicious
ceviche
with fried plantains:
And dessert was more plantains, but the sweet variety made from over-ripe fruit:
These were lightly charred but soft, unlike the ones served like chips for the
ceviche
. These were baked, which was something new for me (us Puerto Ricans like to fry them up good). And served with a strawberry sauce, a light cream, and butter. Quite the pretty presentation.
As an illustration of the graciousness of the Costa Rican people, our bartender and waitresses never once asked if we wanted to close out the tab, or made any mention of closing up. We were the only patrons in the bar till the wee hours (maybe? It's hard to remember between the time difference and all the Costa Rica Libres...) and yet they continued to indulge us until it we finally decided it was time to call it a night.
Somehow I woke up without a headache. Or a volcano...