Part 1
,
Part 2
,
Part 3
,
Part 4
,
Part 5
.
The next leg of our adventure led us to what would become the absolute highlight of the entire trip: a homemade meal at the home of the Murillo family.
Carlos Murillo is an old friend of ours who had made the trip back to his homeland to act as our welcoming committee and unofficial tour guide. The Costa Rican people are without a doubt the sweetest, most gracious people I have ever had the pleasure of meeting. Carlos could be their king, he is the most affable, amiable, and friendliest person I've ever known. His family, even more so.
THE. BEST. FOOD.
Period.
Nothing beats a homemade meal, but it is even better still when it's made with love. And there was nothing but love and laughter in the Murillo home.
Love, laughter, and did I mention the delicious food? The aroma wafting from the kitchen was intoxicating the moment we stepped foot on the porch. It had nothing to do with the
Shandies
we'd just sucked down, either (though probably impacted the quality of these pictures...). We were HUNGRY.
His mom Flor made us
piomono
, a concoction of plantains, black beans, sugar, bread crumbs, and cheese unlike anything I've ever had (and she's promised me the recipe, which is forthcoming!). Plantains are one of my favorite fruits, which we eat too infrequently here at home (mostly because Puerto Ricans fry them and it's not exactly healthy). But in the span of two days, I'd already had them with every meal. It was like food heaven.
Señora Murillo was kind enough to wrap up the few extras that were leftover so I could enjoy them every day till I came back home. I may have eaten a dozen or two...
There were also
papas rellenas,
potatoes stuffed with ground meat and egg. Think baked potato, but with a meaty filling. These aren't the Cuban-style
papas rellenas
I've been eating all my life, which are rolled in bread crumbs and fried. (Those are also very delicious, as my bill at
Porto's Bakery
every time I go in will attest to.) Instead these are baked.
You can't eat just one.
And then for dessert, Carlos' sister Joleny made
flan a la Tilaran
, a layered dish of condensed milk, cookies, pineapple and grapes (recipe also forthcoming!). Served frozen, it was the perfect end to a truly magnificent meal.
I can't wait to make this for my family.
Simple words cannot fully illustrate how grateful we were to the Murillos for hosting us in their home and serving us such an extraordinary lunch. We were welcomed and indulged just like family. And we joked just like family.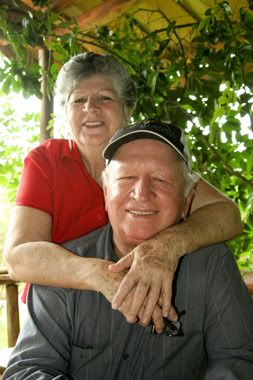 Throughout the wonderful feast, Carlos'
papi
Alvaro entertained us with stories of his days in California, working the port in San Diego.
Pipa Gringo
, as he's known to the citizens of Tilaran, is a bit of wise cracker. So later, when he told me that the word
relajada
(which in the Spanish that my parents speak means relaxed) meant I was saying I was a "loose woman," I didn't believe him. He's a jokester!
But Costa Rican slang being a little different than Mexican or Puerto Rican slang, I really had no idea I was calling myself a tramp! Thankfully, I was quickly corrected and learned not to repeat that again among any other Costa Ricans.
Talk about culture shock!
We were having so much fun, we almost forgot there was still a 2 1/2 hour ride to our final destination in Piñilla. So it was with heavy hearts that we left the Murillo clan and drove out to the beach. Where we spent the remainder of our time in-country zip-lining, exploring the local watering holes, or just lounging by the 45-foot pool next to our semi-private beach.
Oh, and trying not to get trampled by a huge pig...