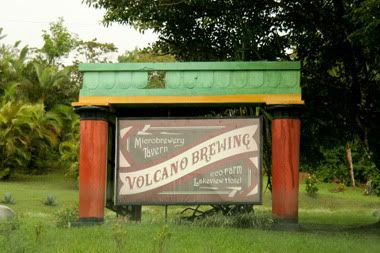 Recap:
Part 1
,
Part 2
,
Part 3
and
Part 4
.
After leaving the very lovely
Lomos del Volcan
and the volcano hidden by rain clouds, we piled back in the Fortuner and drove around a really big lake for a very long time.
Lake Arenal
is huge, but the only way to get to Tilaran was to drive three-quarters of the way around it.
Much to our surprise, as we were hydroplaning our way around the lake, we came upon this sign. And remember, we were on
vacation
! It demanded we stop to check it out.
What we thought we found was an abandoned hotel. Instead it's a former hotel with its own brewery, undergoing renovations by the same guys who own
Witch's Rock Surf Camp
in Tamarindo. It had also
just opened two days earlier
. They say life is about timing. Vacation adventures are just what life is all about. Do the math.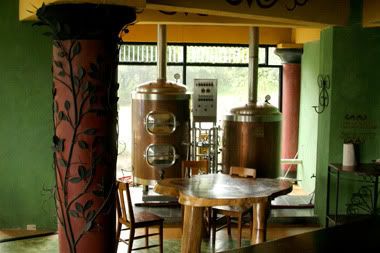 Once inside we were greeted by some very lovely ladies who were tending bar, but encouraged us to explore the grounds. Downstairs we found this beer still.
And then we tasted the beer.
Or, more like their beer concoction.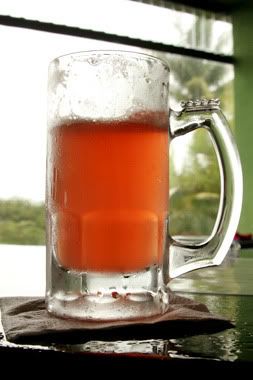 This is a Shandy: a Witch's Rock pale ale mixed with ginger ale and lemonade. The menu warns you:
Watch yourself! It's easy to put these away quickly.
I managed to remember to take a picture before I was too far into this one. Now you know why I stick to scotch and other non-girlie drinks: I've learned sweet drinks are deadly. There is a reason the Shandy comes with a warning. It is delicious, but it's so very easy to forget that it's also an adult beverage.
And it also came with stickers! Because they had just opened, there weren't yet any t-shirts like we wanted. But we did come home with this nifty wench.
No, she's not just any sexy pirate. She's a Costa Rican pirate, dammit! And she'll serve you Shandies all night long if you're not careful.
Where's the food? What food, we were drinking Shandies!
But only two. We had to be careful after all. There was a home-cooked meal waiting for us in Tilaran. And we didn't want to ruin our appetites by drunkenly driving into the lake.