One of the best things about being an event planner is attending an event for which you are in NO WAY responsible. This is especially true when you've just come off an 11-month stint of planning and executing a 3-day event for 2000 people. Some might even call this a vacation, if such a thing existed for event planners. (They don't. You're always planning, whether it's your next 3 events or your next blog post.)
IMEX America
is an amazing tradeshow in Las Vegas, which was, up until last week, one of my least favorite places. But spending time with some LV natives, off the Strip, taught me I might actually like Vegas.
And while I was able to do excellent networking and connect with industry friends, the parties are really what this post is about. Because we ate (and drank) our way up and down Las Vegas Blvd (and off it) over the course of 5 days.
It was exactly what I needed. First up, the food. Next time, the drinks.
Note, when I remembered to shoot a picture of food (or drink), it wasn't with a real camera in perfectly lit conditions. It was with a crappy iPhone under mood lighting, because Las Vegas is very mood-oriented (read: dark).
We arrived at 3:45 pm on Sunday, which gave us just enough time to check-in to our hotel and hustle over to the Venetian | Palazzo, before being escorted to the Paris Hotel to be wined, dined and then whisked downstairs to see Jersey Boys. Bucking the standard, the
Eiffel Tower Restaurant
has delicious food. Also, floor to ceiling windows and beautiful sunset lighting (and a great view of the Bellagio Hotel seen above)!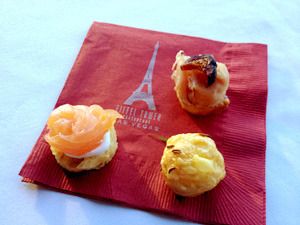 Lox with cream cheese, fried cheese, and prosciutto with figs. Next time I'll show you what they offered to drink. Mmm.
This is what you eat at a classy evening reception. What you eat at 2 am after several hours of dancing, flirting with Australians, and drinking nothing but whisky at
Gilley's
over at Treasure Island isn't quite as beautiful. But damn if it ain't filling: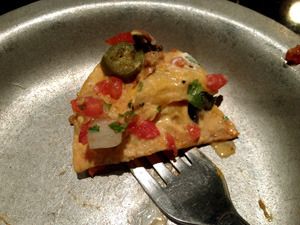 Nachos are good anytime. Especially at 2 am in Las Vegas.
Monday was a low-key day. We only had one reception before exploring the Vegas low-spots, like the ultimate dive bar
Double Down Saloon
that I had actually been to 10 years earlier. More on that next time.
Canyon Ranch SpaClub
at the Venetian | Palazzo has excellent massage therapists. Also, delightful food, like cheesy bacon-stuffed jalapeño and mini cheesecake. We ate far too many of these finger foods.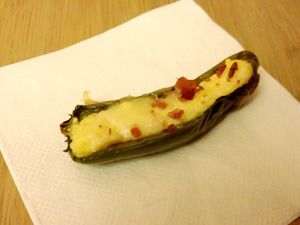 Tuesday was filled with vendor meetings all day followed by back-to-back receptions. They started on the tradeshow floor at 4 pm (sushi and sake at the Japan booth, tequila tasting at the Mexico booth, countless others) and continued off-site at various locations. We opted for tidbits at
Shibuya
, followed by drinks at the
Hard Rock
, capped off by dancing at
eyecandy
.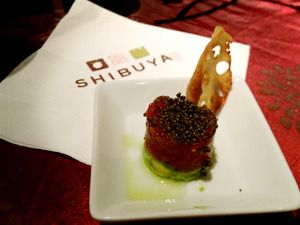 On top
: tuna on a slice of avocado topped with caviar.
Bottom
: pickled cucumber (similar to
ajad
) and tempura rock shrimp.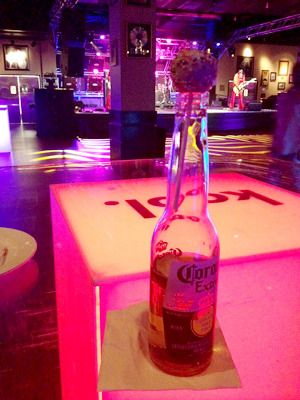 The Hard Rock had great little cake pops. I popped one into my beer (for picture-taking purposes only, of course). You aren't choosy at the open bar spots.
There was very little elegant eating after this. A quick tea latte in the morning, a bar sandwich after dancing till 2 am. You know, the usual.
There was delicious Korean BBQ at 3 am somewhere...but you know what you're
not
doing at 3 am while eating Korean BBQ? Remembering to take pictures under fluorescent lights, that's what.
Next time we'll focus on the liquid aspect of this event. Las Vegas is, after all, a desert. You have to keep hydrated.
On gin & tonics. Or whatever they're serving at the open bar.